Daisy Lowe recently went public with her romance with Thomas Cohen – the widower of her late close friend Peaches Geldof – but if the model's family have their way the couple could soon be heading down the aisle. The 27-year-old has revealed that she is under pressure to get married.
Speaking to the Telegraph newspaper, Lowe admitted that while her mother Pearl Lowe and father Gavin Rossdale would love to see her start a family she is not ready for such a commitment.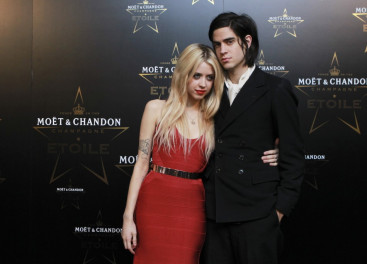 "I'm a traditional girl. One day. I'm not ready for it any time soon, but yeah, course. My whole family would only want that. They want to see me get married and they want to have grandchildren," she explained. "Make sure we get the 'one day' in because I am having visions of people thinking I've decided I want children now. I'm not ready for that, I want to have lots of fun first."
However, Lowe has had plenty of practice playing stepmother to Cohen's children Astala, three, and Phaedra, two. Although the pair raised eyebrows in January when they were spotted kissing and holding hands while holidaying in Miami, Florida, she is said to be head over heels for the rocker.
Critics claimed that their romance was inappropriate considering Lowe's close friendship with Geldof, who died of an accidental heroin overdose at her Kent home in April 2014, but the brunette refuses to let public opinion define her. She introduced her 25-year-old beau to her rockstar father in late January at a London café, and on the night of her 27th birthday they enjoyed a meal with her grandparents at J Sheekey in Covent Garden.
"The older I get, the younger I am feeling. I think you just give less of a toss," she said. "Life is for living and having a laugh. I spent my teenage years and early twenties worrying about everyone else and, actually, life goes on. Things have to roll off your back. You have to enjoy yourself, otherwise what's the point?"
Despite their PDA moments she recently told Now magazine that her personal life was a no-go area: "I'm never going to talk about my personal life, never... I am so happy, thanks, yeah. I'm about good vibes all around," she said.