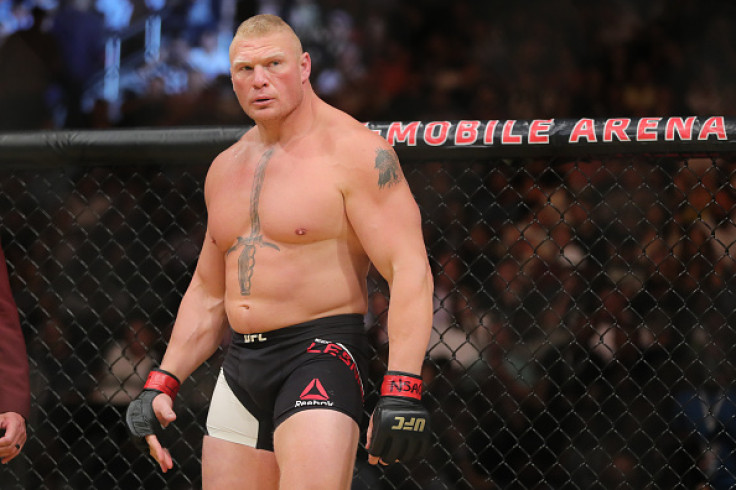 UFC president Dana White has ruled out WWE superstar Brock Lesnar's return to the octagon after claiming the fighter's career is "winding down."
The 39-year-old is serving a suspension after he failed US Anti-Doping Agency's in-competition drug test at UFC 200 in July 2016. He defeated Mark Hunt during the fight, but the decision was overturned after he tested positive, which also led to his suspension.
It was Lesnar's first fight since his defeat to at UFC 141 in December 2011. He has returned to WWE, where he lost to Goldberg at Survivor Series in November. UFC chief admitted that he is unaware as to how long Lesnar is tied up with the World Wrestling Entertainment, but believes his chances of returning to the octagon are over.
"I doubt it - I don't know how much longer he's got with WWE. I think his career is winding down, but he's a freak of nature. Who knows ... maybe he'll give me a call and say he wants to do it again but I think he's ready to ride off into the sunset," White told TMZ Sports.
When asked if he has held talks with Lesner over the possibility of a return to the UFC, White said, "I haven't. We have not talked about it."
Another former wrestler CM Punk is eagerly waiting for another chance to impress inside the octagon. Punk lost to Mickey Gall in his debut fight and remains confident of making a return to the UFC.
White was questioned whether CM Punk will get another shot at the UFC, he said, "I don't know. He and I have not figured that out, but we will. I've got to talk to him and see how this thing works out for him."
"UFC's a dangerous place, man. It really is. It's a tough place to come in for your first couple fights. I give him all the credit and respect in the world for coming in and giving it a shot. It's a tough place to do it though. But we'll see what happens. I love the guy."