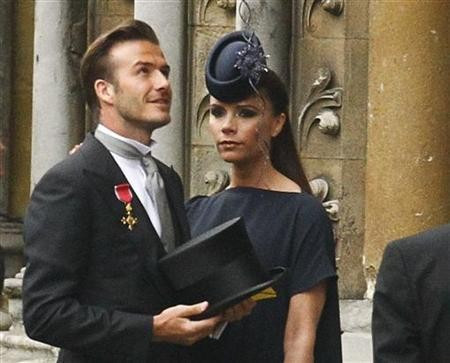 Harper Seven is the latest edition to the Beckhams clan, the first daughter for the fashion conscious pair.
Harper Seven may sound like the seventh edition to some kind of household appliance, but when discovering that seven was actually the number of David's shirt when he played for former club Manchester United and England, and the fact that it is the Beckhams after all, then it all makes sense.
Born yesterday morning at Cedars-Sinai hospital in LA, weighing a healthy 7lbs and 10oz both mother and baby seem to be doing well. With David saying: "I am so proud and excited to announce the birth of our daughter Harper Seven Beckham.
"She weighed a healthy 7lbs 10oz and arrived at 7.55 this morning, here in LA. Victoria is doing really well and her brothers are delighted to have a baby sister'' in a statement on Facebook.
Friends and family were quick to congratulate the pair with Emma Bunton, former Spice Girl band mate tweeted: "Big kiss to @victoriabeckham can't wait to meet your gorgeous little girl!"
David's sister Joanne added on Twitter that she couldn't wait to meet her "beautiful niece": "Big congrats to my sister in law @victoriabeckham and my big bro on the birth of my beautiful niece :) can't wait 2 see u all xx"
The Beckhams, who already have three boys Brooklyn, 11, Romeo, eight, and Cruz, five have been eager to add a girl to their family both openly stating their desires publically for years. And now with the edition of baby girl Harper Seven we are sure they could not be any happier!
Congratulations to Victoria and David!