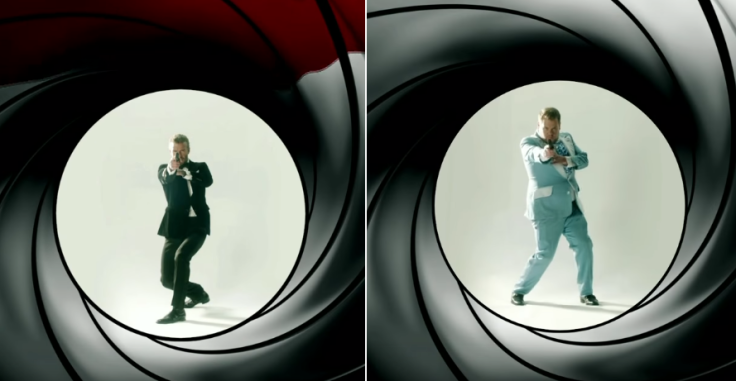 James Corden kicked off his week of The Late Late Show from London as he paid tribute to the city following the most recent terror attack on 3 June. The talk show host, for his 8 June episode, roped in one of England's most famous exports to the US, David Beckham.
The former England footballer and Corden starred in a hilarious skit featuring the two auditioning for the role of James Bond. While we can manage to visualise Beckham in the role, Corden as a member of Her Majesty's Service requires a lot more imagination.
In the skit, the two try to sabotage each other's chances at earning the role, starting with Beckham swapping Corden's black tuxedo for a light blue ruffled monstrosity. He then interrupts a scene in which the show host has to woo the Bond girl, Bunny Hemlock.
"Hi, I'm David Beckham," he introduces himself to the woman, who is quick to respond: "I want to sleep with him!"
Corden however does get his chance for revenge during the King Arthur actor's turn. Beckham says his lines as he attempts to woo the woman in the bedroom only to find it is Corden dress in the sparkly black dress and wig.
After a couple more flop auditions, both are told they are too unprofessional and cannot suit the part of Bond. The two then share an emotional moment. "We shouldn't be fighting like this... we're a team," Corden says.
"I love you man!" Beckham responds before the two decided to work together on their own remake of Batman and Robin.
Watch the complete skit below: