Very sorry and sad to say it's true. I'll be offline for a while. Love to all. pic.twitter.com/Kh2fq3tf9m

— Duncan Jones (@ManMadeMoon) January 11, 2016
David Bowie's son Duncan Jones has shared a poignant letter written by a Welsh doctor to the music icon, in the week after his death. Palliative care doctor Mark Taubert described Bowie as an inspiration to millions battling life-ending illnesses.
He explained that his death has sparked discussions about terminal illnesses and has made it easier for people to talk about how they would like to spend their last days. In a personal account, Dr Taubert described how Bowie's example had helped him to support a patient coming to terms with a terminal illness.
Bowie released his last album Blackstar on 8 January, his 69th birthday, just two days before his death. His unexpected death from cancer prompted an outpouring of grief around the world. Dr Taubert described the release of Bowie's final album Blackstar as a "work of death art" and commended the star for the final gift of his music. He wrote: "I am a palliative care doctor, and what you have done in the time surrounding your death has had a profound effect on me and many people I work with. For me, the fact that your gentle death at home coincided so closely with the release of your album, with its goodbye message, in my mind is unlikely to be a coincidence. All of this was carefully planned, to become a work of death art.
"The video for 'Lazarus' is very deep and many of the scenes will mean different things to us all; for me it is about dealing with the past when you are faced with inevitable death."
Describing a conversation he had with a cancer patient in his own hospital, Dr Taubert said: "We discussed your death and your music, and it got us talking about numerous weighty subjects that are not always straightforward to discuss with someone facing their own demise In fact, your story became a way for us to communicate very openly about death.
"She talked about you and loved your music. We both wondered who may have been around you when you took your last breath and whether anyone was holding your hand. I believe this was an aspect of the vision she had of her own dying moments that was of upmost importance to her and you gave her a way of expressing this most personal longing to me, a relative stranger."
He concluded by thanking Bowie for providing the soundtrack to his life. The Velindre NHS Trust consultant, based in Cardiff, uploaded the letter to the British Medical Journal's website. He also posted a link to his blog on Twitter and it was soon picked up by several charities and commentators, including Marie Curie UK. It was retweeted by Jones.
Speaking from his home in Pontcanna, Cardiff, Dr Taubert told Mail Online that the dignity with which Bowie fought the disease and continued to work to create a piece of art that encapsulated his struggle, had the effect of encouraging people to talk about the difficult subject of death more openly.
"The fact that he has retweeted the letter is brilliant. Over the last week or so I have had conversations with around five or six patients about David Bowie's death. The fact he died at home was really important as people nowadays associate death with hospitals. But it is healthy to talk about death and different types of death. The gist of the letter was to get the general public talking about death and maybe David Bowie and his son have helped us achieve that."
Bowie died surrounded by family and friends. Jones took to Twitter to confirm the iconic singer's passing on 10 January, adding that he would be 'offline for a while' as he came to terms with his loss.
The family of Bowie have said they are "overwhelmed" by the public reaction to the death of the music legend.
Fans have been holding memorials around the world, while celebrities including Kate Moss, Madonna and Kanye West have been paying their personal tributes.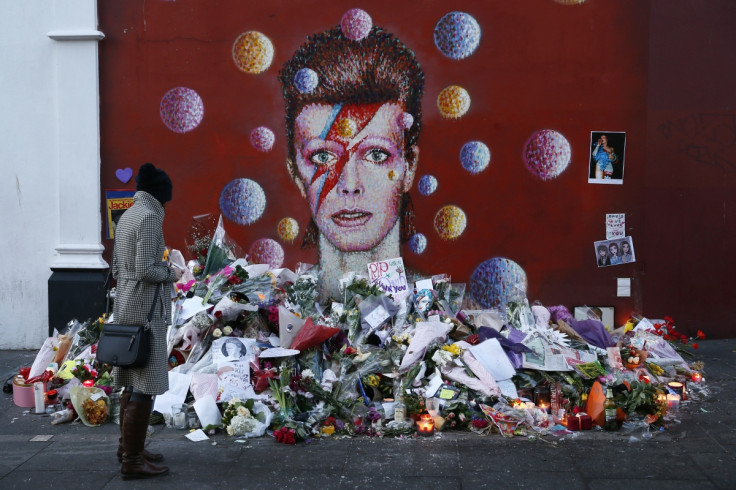 As fans revisited his music Blackstar had taken the number one spot, according to the UK's Official Chart Company.
Next month's Brit Awards is dedicated to the London-born singer and will pay a musical tribute to the star. Bowie will also be honoured with a memorial concert at New York's Carnegie Hall on 31 March. The concert to celebrate his musical legacy was announced hours before his death and tickets sold out within hours. Organisers said "up to 20 artists" including The Roots, Cyndi Lauper, The Mountain Goats, Heart's Ann Wilson, Perry Farrell and Jakob Dylan would perform Bowie classics.
It has been reported that Bowie was cremated shortly after his death. He is survived by his wife, Iman, and children Duncan and Alexandria.