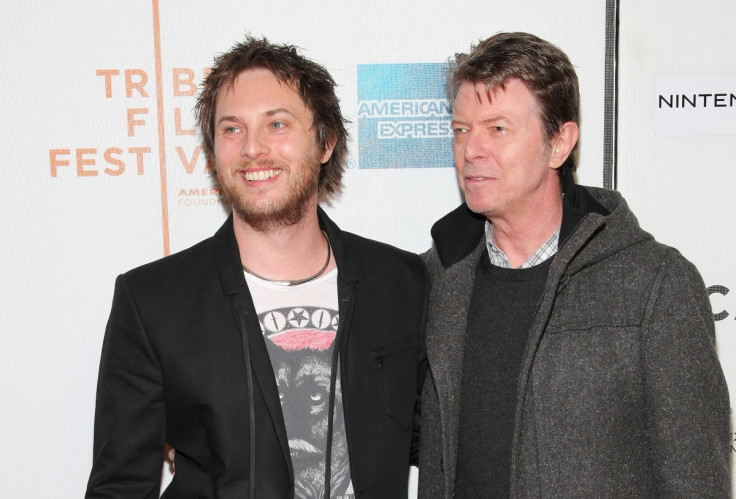 David Bowie's son, Duncan Jones, has announced he is to become a father for the first time. He shared the news on 10 February – one month to the day since his music legend father lost his battle with cancer.
The 44-year-old father-to-be made the announcement on Twitter, and posted: "1 month since dad died today. Made this card for him at Christmas. Due in June. Circle of life. Love you, granddad."
The image shows a hand-drawn pregnant cartoon character with an umbilical cord coming out of its stomach. A speech bubble from the baby says: "I'm waiting."
Bowie died last month after an 18-month battle against cancer. His eldest son Duncan announced the tragic news on social media, confirming that the music icon had succumbed to liver cancer. "'Very sorry and sad to say it's true. I'll be offline for a while. Love to all, he wrote, sharing a poignant photo of himself a child with this father.
Duncan is Bowie's eldest child from the music icon's marriage to Angie Bowie. Angie was in the Celebrity Big Brother house when she was informed of the singer's death. She revealed she has been estranged from her son for 28-30 years.
Jones, a BAFTA-award winning director is married to photographer Rodene Ronquillo. While Bowie would not live long enough to see his first grandchild, he did know that he was due to become a grandfather.
His widow, Iman Abdulmajid, continues to mourn the loss of her husband and turned to social media to share a poignant Instagram quote. Bearing the Hindu religious symbol "Om", the quote from writer Rune Lazuli reads: "Each tear is a poet, a healer, a teacher."
The supermodel is also mourning the loss of close friend, stylist and hairdresser Teddy Antolin, who died aged 68.
Details of the loss were announced on Bowie's Facebook page, via a heartfelt message which read: "It is with sadness that we report the news that Teddy Antolin has passed away. Teddy was a former hairdresser for David on several tours, video shoots and photo sessions."
Antolin had accompanied Bowie on several world tours. His passing would have particular resonance for the model since it was he who introduced her to Bowie more than 25 years ago.
In an archive interview with the Sunday People, the stylist to the stars explained that he played matchmaker for Bowie and Iman. "David was very lonely. It was so sad – all this hard work David did each day and then he was alone. I didn't want to speak to Iman at first. I thought it would be so cliché if I say 'how beautiful you are' but you end up doing that and we started talking and a light bulb went on."
He explained how he persuaded David to attend a birthday party in New York, where he knew Iman would be present. "The minute she walked in all the attention went to her, she just claimed the room. She had a big smile and she and David looked at each other and it was love at first sight, you could feel the electricity, something went off," he revealed.
"They spent the night talking to each other like they had known each other forever. They were looking at each other like, 'Now what, shall we skip dessert and go home?'"
The couple tied the knot in 1992 and were married for 23 years. They have a 15-year-old daughter together called Lexi.
Iman was seen in public a week ago, for the first time since her husband's death as she stepped out of the New York apartment they shared, to walk her dog Max.
While Bowie had kept his diagnosis private, telling only family and friends of his condition, Iman posted a series of emotional messages which read: "The struggle is real, but so is God." She marked his birthday on 8 January with a message that read: "I will love you til i die, i will see you in the sky #tonight happy birthday mr. bowie," next to a photograph of her husband with Tina Turner. "Happy Birthday to the man who fell to earth. Forever Bowie."
In 1995, Bowie was asked by journalist Simon Witter what his greatest achievement had been. He replied: "Marrying my wife. Nothing else matters."
This year's Brit Awards on 24 February is dedicated to the London-born singer and will pay a musical tribute to the star. Bowie will also be honoured with a memorial concert at New York's Carnegie Hall on 3 March.