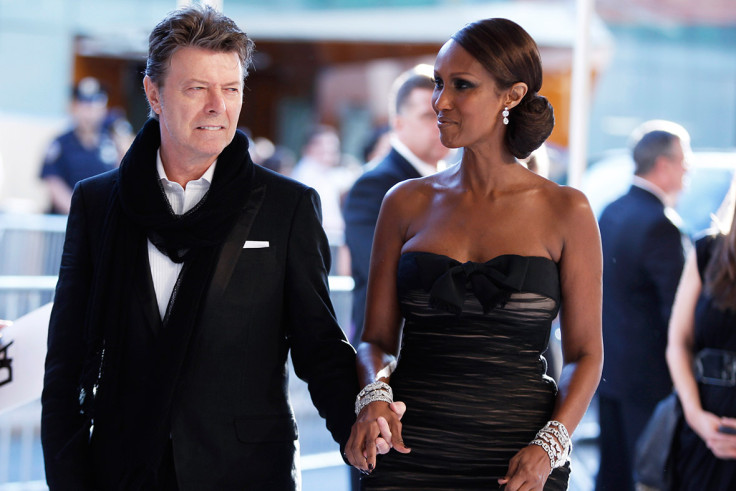 The grieving wife of David Bowie has been seen for the first time since the music legend died of cancer. Iman Abdulmajid 60, was seen leaving the couple's New York home to take her dog for a walk on Tuesday (2 February) morning.
Wearing a black coat, scarf and gloves, the former supermodel looked composed as she went for a stroll. She was caught on camera by Kevin Mazur, a favourite photographer of the model and her late husband.
Bowie died in January 2016 after an 18-month battle against cancer. His death prompted an outpouring of grief around the world. Responding to the messages of support and sympathy, in a post on Bowie's official Facebook page, the family expressed their gratitude to the singer's legion of fans, adding that they "welcome everyone's celebration".
While Iman has made no public comment about the loss of her husband, she posted several emotive messages on social media in the days before and after his death. She shared an image on Twitter saying: "The struggle is real, but so is God," along with the caption "rise" on the day of he died. "Sometimes you will never know the true value of a moment until it becomes a memory," she said in another tweet.
She marked his birthday on 8 January, just two days before he died, with the poignant message: "I will love you til i die, i will see you in the sky #tonight happy birthday mr. bowie," next to a photograph of her husband with Tina Turner. "Happy Birthday to the man who fell to earth. Forever Bowie."
Hinting at her pain as she comes to terms with his death she wrote to her 108,000 Twitter followers: "Life isn't about avoiding the bruises. It's about collecting the scars to prove we showed up for it."
In January Iman's friend Bethann Hardison told People that the star was coping in the face of her tragic personal loss. "She's fine. We're fine. We're holding up. It comes in waves, you know. He's a great loss – not just a loss as an artist, but as a human."
Iman, Bowie's second wife, married the singer in 1992. The couple were married for 23 years and have a 15-year-old daughter called Lexi. He was married to Angie Barnett from 1970 to 1980, and the pair had a son Duncan, originally known as Zowie Bowie, born in 1971.
The rock star has left half of his $100m ($146m) fortune and his Manhattan apartment to his widow. Iman will receive her share four times a year through two of his lawyers, according to Page Six. She is also able to request more money for "health, education and maintenance".
Most of the remaining money will be split between the couple's daughter, Lexi and Bowie's 44-year-old son. Duncan will be given approximately $25m while Lexi can claim her money when she turns 25. Duncan's nanny, Marion Skene, was left $1m, with Bowie's personal assistant, Corinne Coco Schwab receiving $2m.
In 1995, Bowie was asked by journalist Simon Witter what his greatest achievement had been. He replied: "Marrying my wife. Nothing else matters."
This year's Brit Awards on 24 February is dedicated to the London-born singer and will pay a musical tribute to the star. Bowie will also be honoured with a memorial concert at New York's Carnegie Hall on 3 March.