When Hideo Kojima walked out onto the Sony stage we knew we were in for a treat. A few minutes later we were all watching a trailer for a new project featuring the Walking Dead's Norman Reedus. Not a single person knew what they were looking at, but we enjoyed it. I think. Well, it was different to say the least.
But what can we learn from the bizarre imagery thrown at us? Anything? Well, I'm going to attempt to unpack some of what we saw, and in the process probably drive myself to insanity.
It all starts with a quote from William Blake's Auguries of Innocence, in which innocence is juxtaposed with corruption. In true Blake fashion he goes on about the importance of nature, man's sin of destroying it and god being found in the natural world rather than man-made buildings and books.
Before this descends into a GCSE English Literature paper, note this is relevant as we go straight from that message into a shot of lots of dead crabs. Gross decaying nature with human handprints filling with black oil.
We swiftly move away from crabs to another recurring image, from death and decay to handprints and babies. This was never going to be a straight forward analysis. Here we find Norman Reedus, naked, curled in the foetal position and covered in handprints.
Attached by an unnatural looking umbilical cord is a baby. Norman doesn't look like he's having the best time as he's also got some glowing blue handcuffs attached to his left wrist, and a necklace made up of what looks like locks.
This is where the themes of VULNERABILITY, REBIRTH, PARENTAL ANXIETY, LOSS and FEELING TRAPPED are shoved in our faces with all the subtlety you expect from a Kojima game.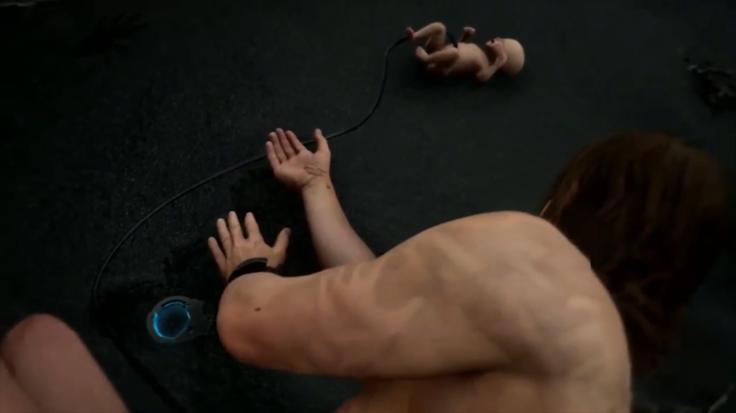 Before he has a chance to properly cry about the baby he's picked up, his hands are covered in black oil and teeny tiny baby handprints are making their way down his leg and towards a bunch of dead fish. It's all very unsettling.
A beach. Dead marine life. Oil. William Blake quote. Human handprints literally leaving a mark on the earth. I can't be the only one getting strong environmental feelings from the barrage of art-house images. The could-be-caesarean scar on his torso also leads us to our second motif. Religion. Norman has a big ol' nasty scar in the shape of a cross.
He then looks to the sky which has five people floating about in it, who are certainly cast as figures of dread. Five people in the sky, an impossible birth, a cross; Kojima's doing religious iconography meets a massacre at Sea World.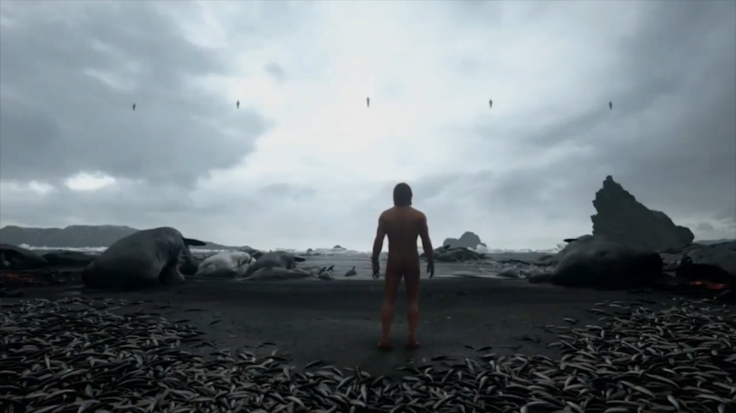 Then we get to the awkward sounding name. Death Stranding. Do you get it? Stranded on a beach? Surrounded by dead stuff? Here's some more dead whales until you get it. Of course it's easy to make fun of the slightly over the top imagery, but this trailer is genuinely interesting and has me intrigued.
It's impossible to guess at what the actual gameplay might be but it's fun to pick at some of the themes on display. Grief, loss and foetuses were on display in Kojima's Silent Hills Playable Teaser and it seems we're getting some of those back in Death Stranding.
The whole thing made me think of Prometheus meets Eraserhead, and that's not something you often get from a game trailer. As long as it doesn't turn out to be Norman trapped in purgatory or having a nasty dream, then I am wholeheartedly on board with this eerie new IP.
For the latest E3 2016 news head to IBTimes UK's hub page