Apple has acknowledged that a batch of iPhone 5 units, shipped between September 2012 and January 2013, may be affected with battery problems. So it is offering new batteries for these handsets under a free battery replacement program in China and the US, starting 22 August.
According to Apple, the affected iPhone 5 units could experience shorter battery life or need to be charged more frequently.
iPhone 5 users who are experiencing any of these symptoms with their handset's battery life, should immediately check their eligibility criteria by matching their device's serial number against the database of devices listed as potentially affected on Apple website.
Are You Eligible for Free Battery Replacement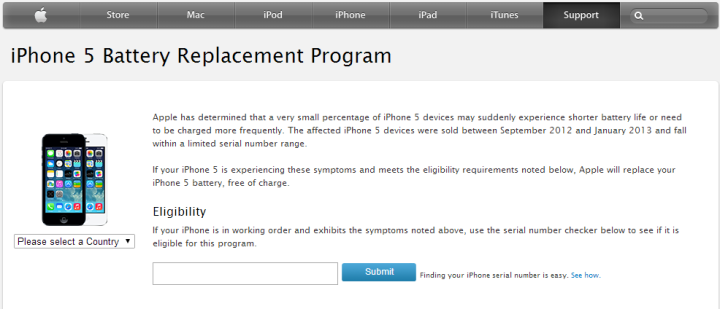 To check for the eligibility of your device, click here. Those who are eligible for the program can get their iPhone's battery replaced by either an Apple Authorised Service Provider or Apple Retail Store, absolutely free of charge.
Help and Technical Support
Those who are unsure about the replacement process or if they need any assistance in checking if their iPhone 5 battery is faulty or eligible for a free replacement, should contact Apple Technical Support for help.
Find the nearest Apple Authorised Service Provider from here or book an appointment with Apple Retail Store to avail free battery replacement for your iPhone 5.
How to Prepare Your iPhone 5 for Battery Replacement
Back up your important data to iTunes or iCloud
Turn off Find My iPhone
Erase data and settings by going to Settings > General > Reset > Erase all Content and Settings
Note #1: Any existing damages to the iPhone 5, such as cracked screens or broken body parts should be resolved before the battery replacement through separate repair appointments. Such repairs may incur some cost, despite the faulty battery being replaced free of charge.
Note #2: All iPhone 5 repairs will be subject to the original country of purchase and those who mistakenly paid for the battery replacement work can now claim their refunds by contacting Apple Technical Support and logging a ticket for the same.
Note #3: The program is limited to free replacement of affected iPhone 5 batteries for two years from the date of first retail sale of the unit or until March 1, 2015, whichever is later or provides longer coverage.