Demands for truth on murder of Giulio Regeni intensify a year after his disappearance
The Cambridge Phd student was kidnapped, tortured and murdered in Egypt.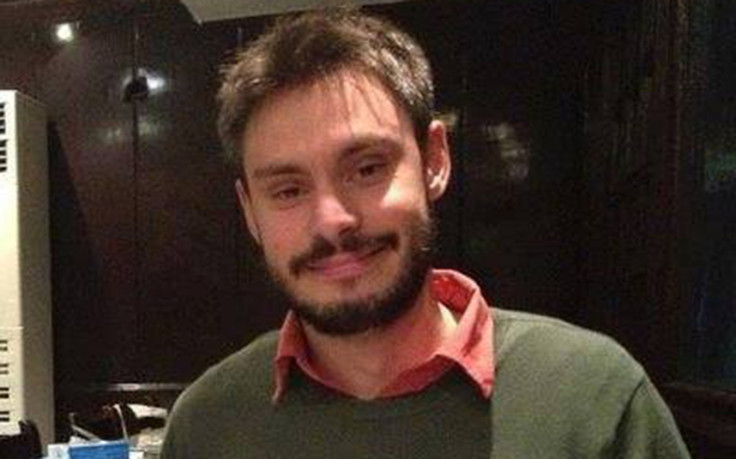 Egypt state television broadcasted a video depicting in a sinister light the Italian PhD student Giulio Regeni, who was tortured and murdered in the country in February 2016, as activists renew demands for truth about the young man's death.
The footage shows Regeni talking to Mohammed Abdallah, head of an unofficial street vendors union, about applying for funding from the British foundation Antipode, which had made available as much as £10,000 for social inclusion projects in developing countries.
In the recording, Abdallah repeatedly asked Regeni for ways to get access to the funding, saying he needed money as his daughter underwent surgery and his wife needed cancer treatment.
The full transcript of the recording, published on the Italian newspaper La Repubblica, shows that Regeni stated the money could not be used for personal purposes and he had no interest in the country other than conducting his research.
"I have no authority. I am just a foreigner in Egypt. I am a researcher and I care about continuing my research project. That is what I, Giulio, care about. And I care that you as street vendors benefited from the funds in an official way, as required by the project and the British", he said.
Egyptian state media has long been suggesting the Cambridge student, whose research focused on trade unions in the country, was actually trying to stir unrest. The video appears to be filmed by Abdallah, who admitted last December he was working with the secret services.
Abdallah told the Arab version of the Huffington Post that he was the one who denounced Regeni as a spy to the Egyptian authorities. He said: "He was a foreign guy who was asking strange questions about national security. The last time I spoke to him over the phone was 22 January, I recorded the phone call and sent it to the Interior Ministry."
Three days later, on 25 January 2016, Giulio disappeared. His lifeless body was found in a street outside Cairo on 3 February, bearing the marks of torture. Since then, Giulio's family, friends and activists have not stopped demanding to know the truth about his death.
On Sunday 22 January, the same day the video was published, Egypt finally agreed to Italy's request to send experts to try and retrieve footage from security cameras at a Cairo metro station where Regeni was spotted the day he was abducted, hoping to find clues about the circumstances of his disappearance.
The day in which Regeni went missing marked the fifth anniversary of the beginning of the uprising that led to the fall of dictator Hosni Mubarak. The heavy police presence on the streets of Cairo that night, as well as six witnesses reports unveiled in a Reuters investigation, has led to strong suspicions that Egyptian security forces were behind his abduction and death.
Egypt's government has always denied involvement of its security forces in Regeni's murder, and suggested several alternative scenarios in the past year. At first, it was hypothesised he was killed in a road accident, then it claimed that Regeni had been kidnapped and killed by a gang, only for this story to be debunked too. Italy recalled its ambassador in April last year over Cairo's alleged lack of cooperation in the investigation.
Amnesty International in Italy has spearheaded the campaign to uncover the truth about the murder. Yellow banners reading "Truth for Giulio Regeni" have been prominently displayed in universities and institutional buildings across the country.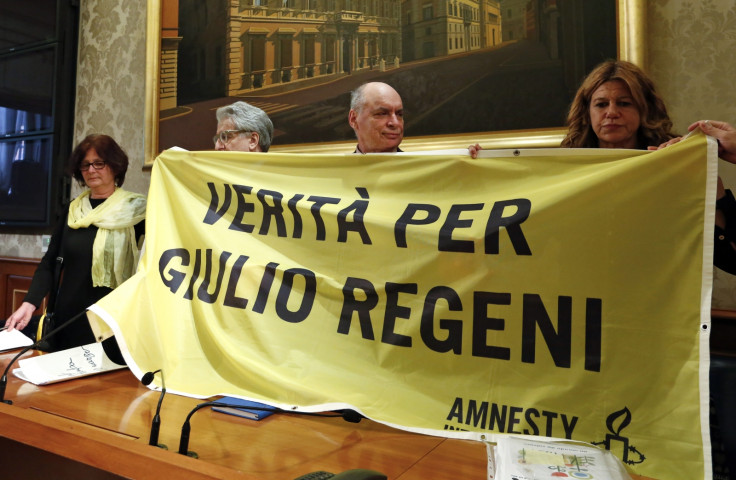 Amnesty has organised a march in Rome on the evening of 25 January, one of more than 20 events marking a year since Regeni's disappearance, to honour his memory and renew demands for truth. In the UK, Cambridge university students are gathering on 23 January to remember their fellow student, and the Italian society at the London School of Economics has planned an event for 3 February.
Amnesty demands that Egypt make concrete steps to admit its responsibility in Regeni's death, apologise, and suspend the current arbitrary detention of several activists. It also demands that Italy suspend the sale of weapons and surveillance software to the Egyptian government, which is often condemned for its violation of human rights.
An Irish citizen, Ibrahim Halawa, has been in prison after being arrested during a siege at the Al-Fath mosque in Cairo in 2013. His trial has been adjourned 15 times since, his lawyer told the BBC in November.
Amnesty spokesperson Riccardo Noury told IBTimes UK there has not been sufficient pressure from the Italian and foreign governments to demand truth from Egypt. "The Italian government are walking a tightrope, doing a balancing act between asking for truth for Giulio Regeni and keeping good relations with Egypt.
"They try to achieve both, but I think that after a year without truth, Italy should not normalise nor accept a convenient truth, but work harder to obtain the real truth. This is a country where millions of people have taken Giulio's fate at heart, they won't forget about him from one day to the other," Noury said.
The demonstration in Rome on Wednesday will try to show just that, bringing together the hundreds of people who have been active online in the past year demanding truth for Giulio Regeni. Noury said: "In Italy we are used to fighting for a long time for truth and justice, we will not give up."
© Copyright IBTimes 2023. All rights reserved.