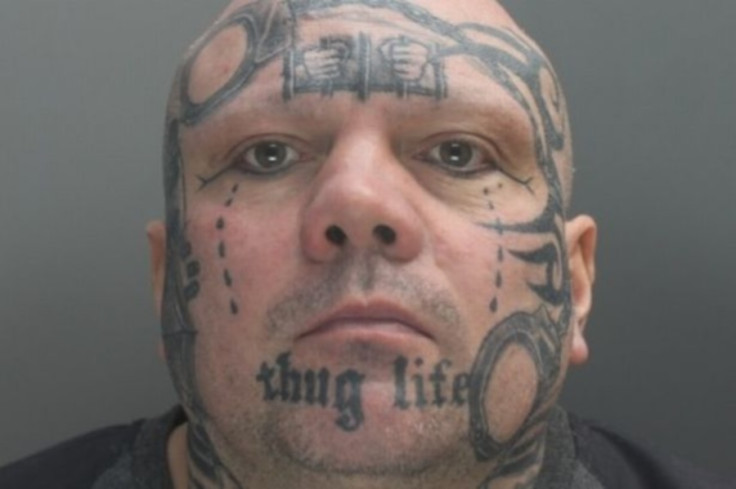 A thug has been jailed for life after kidnapping a man, torturing him and forcing him to commit sex acts in a "humiliating" and "barbaric" assault. Heavily-tattooed Daniel Misiolek, who has "thug life" tattooed on his chin, admitted a number of offences linked to the kidnap and torture of a man in Bootle, Liverpool, in November 2015.
Many of the degrading acts he committed on the man, who cannot be named for legal reasons, were filmed by two women - including Misiolek's fiancee - who were also jailed. Liverpool Crown Court heard a string of sick sex acts his victim endured, included kidnapping, false imprisonment, rape and five counts of forcing the man to insert objects into his body – including sex toys, a broom handle and a toilet brush.
The attack was in response to something his co-accused Dagmara Szary, 19, "appeared to have taken offence" to. It was then that Misiolek, without provocation, attacked the victim, punching him and hitting him with a baseball bat before taking him to his home in Netherton.
The victim was forced to strip naked by Misiolek and another man, before he was locked in a storage cupboard. He was let out in order to perform the sex acts and to be beaten by the men, the Liverpool Echo reported.
Kenneth Grant, prosecuting, said according to the newspaper: "Misiolek said: 'This is your f***ing punishment' and then punched him in the face. Later Misiolek walked the victim to a small cupboard by the front door, saying to him: "You won't get hurt but you will stay here until Monday and I will feed you once a day'."
The court heard how the victim was bound by his ankles and wrists and made to hop around the flat between attacks. Misiolek's fiancee Anna Baszak, 27, filmed ninety minutes of the nine-hour onslaught.
Grant added: "The prosecution say the victim was tortured and forced by Misiolek to yield to him and forced sexual degradation and humiliation. While being subjected to these acts of self-degradation Misiolek said to the victim 'you need to confess you are a paedophile'."
When Misiolek left the flat, the victim broke out of the cupboard, dressed himself and jumped through a window of the top floor home to escape. Defending Misiolek, Nicholas Walker told the court his client accepted wrongdoing and that his offences "bare the hallmarks of improvisation rather than pre-meditation" and that he is "not dangerous".
Defending Baszak, Peter Killen, described her as vulnerable as she was convicted of kidnapping and two counts of causing a male to engage in sexual acts without consent.
Sentencing the pair, Judge Aubrey said: "You sought and did degrade your victim, humiliate him and in truth almost dehumanised him. You sought to punish him, you perceived that he had an attraction to girls.
"There was in fact very little evidence to support that assertion and conclusion. Even if there was, nothing whatsoever can justify, excuse or explain that which occurred to him - save you Daniel Misiolek and your power and your desire to rule."
Misiolek was sentenced to life, with a minimum of nine years imprisonment whilst Baszak was sentenced to 12 years behind bars. Szary was convicted of one count of kidnapping and was sentenced to 15 months in a young offenders' institution.