Square Enix have been teasing what many have believed to be the new Deus Ex game through a interactive live-stream, but ahead of any official announcement concept art from their sequel to Human Revolution has leaked online.
NeoGAF users found the screenshots above and below on Russian website Kanobu confirming Deus Ex: Mankind Divided for release on PS4, Xbox One and PC. No firm details regarding a release date were unearthed, but the imminent official announcement should cast some light there.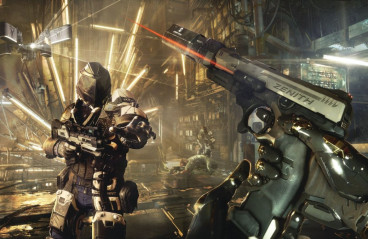 The shots confirm a first person shooter (as would be expected) and the return of Adam Jensen, the protagonist from 2011's well-received third Deus Ex game Human Revolution.
Translated text from the Russian website potential reveals some small details about the game, most notably that it will not carry on directly from Human Revolution. There is also mention of a hack mechanic likened to that of Ubisoft's Watch Dogs.
Square have big plans for the series, with developer Eidos Montreal David Anfossi revealing plans for "Deus Ex: Universe" in October 2013 (via Eurogamer).
Then he said: "The concept behind Deus Ex: Universe is to create an ongoing, expanding and connected game world built across a generation of core games.
"It's a commitment on our part to deliver meaningful content that expands the franchise on a regular basis and to deliver a deep conspiracy that will span several connected Deus Ex games, creating a more immersive and richer experience than ever before."
It appears Mankind Divided will be the central pillar of their plans.
As this story unfolds Square's ARG setting up the official reveal is ongoing. Twitch user "CantKillProgress" is currently "playing" Project CKP, a streaming video of an imprisoned and sometimes tortured man. Community votes are taking place to decide what happens yet.
The rest of the leaked screenshots are below...