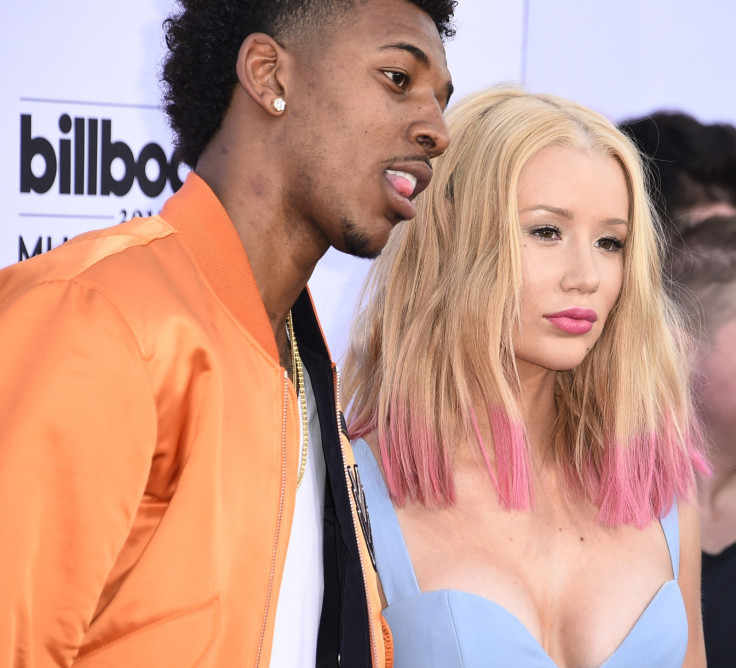 Iggy Azalea has revealed her shock after discovering that former fiancé Nick Young may have fathered another child with his son's mother. The Black Widow hit maker, who ended her relationship with the NBA star in the wake of an alleged cheating scandal, said that the news was a "second shot to the chest" after the news broke online.
According to Life & Style, Young's ex-girlfriend Keonna Green is pregnant again following a drunken "lapse in judgment." Life & Style claim they recently approached Green –who runs a children's clothing business called Young's Playhouse – and she confirmed the pregnancy was an accident but refused to comment further.
Taking to Twitter, the 26-year-old Azalea claimed that Young had cheated on her with multiple women, allowing trust issues to manifest. The Australian rapper explained that while she had full knowledge of his infidelity, she didn't know he had impregnated his son's mother for the second time.
"I have never even been told by Nick that his baby mother is pregnant so if this is true I'm finding out via E news", she told her 6.6 million followers. "I broke up with Nick because I found out he had brought other women into our home while I was away and caught them on the security footage."
She continued: "This is just like a second shot to the chest. And I feel like I don't even know who the hell it is I've been loving all this time. People in this world really are f**ed up."
Azalea got engaged to Young in June 2015 after he popped the question with a 10.43 carat engagement ring during his carnival-themed 30th birthday celebrations. Their relationship was rocked in March after footage surfaced of the LA Lakers star allegedly confessing to having intimate relations with another woman while in a relationship with Azalea.
Despite the scandal, the pair showed a united front for further three months before finally going their separate ways. "Unfortunately although I love Nick and have tried and tried to rebuild my trust in him — it's become apparent in the last few weeks I am unable to," Azalea said in a statement posted on Instagram.
She added: "I genuinely wish Nick the best. It's never easy to part ways with the person you planned your entire future with, but futures can be rewritten and as of today, mine is a blank page."
At the time a source told E! News that their relationship struggled to recover from the controversy. "Iggy and Nick haven't been the same since that video was leaked a few weeks ago. She tried to put it behind her, but she still did not trust him. She was questioning so many things about what he was doing since that was leaked," the insider said.