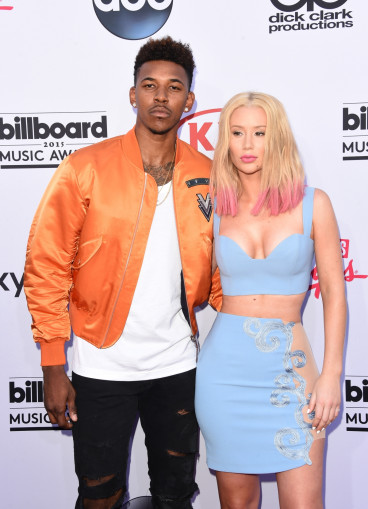 The cheating scandal between Iggy Azalea and Nick Young has gotten messier, with rapper Nicki Minaj now dragged into the controversy. Footage has emerged of NBA star Young, 30, allegedly confessing to having intimate relations with another woman while in a relationship with his rapper fiancee – and a source has pointed the finger at Minaj.
In the brief clip, the LA Lakers player can be seen discussing the alleged encounter in a conversation with his teammate D'Angelo Russell, who is filming the exchange reportedly without Young's knowledge. Young tells Russell, 20, that the woman he slept with was aged 19 while adding that he would not get involved sexually with model Amber Rose as they are merely friends.
Although he filmed the reported confession, Russell insists he has "no clue" how the footage got out prompting celebrity website Fameolous to suggest Minaj, 33, and her team found the video and leaked it online as revenge for negative comments Azalea, 25, is said to have made about the Young Money rapper.
However, Azalea was quick to jump to her fellow rapper's defence, tweeting: "Now that is just foolishness. Lol. ANY way to twist ANY thing into two females supposedly hating one another. zzzzzz. im sleep tho."
Watch Nick Young's alleged cheating confession:
She added in separate tweets: "If theres proof of cheating, shed be doing me a favor to post it actually. im not tryna marry a cheater. I agree, nothing is black and white in life. every situation is different depending on the circumstance."
Russell, who plays both point and shooting guard positions for the Lakers, held a press conference on 30 March to address the scandal, which had become a trending topic on social media. The athlete told reporters: "I feel as sick as possible... I can't really show my face anywhere without people hating me right now. I don't know. I try to handle it the right way and remember why I'm here, which is to play basketball."
It was revealed that Russell had been given the cold shoulder in the locker room by his teammates in support of Young, and the young player admits he "don't know" when he will find himself in their good books again. He explained: "You can't undo the damage that's been done. All you can do is stay apologetic from your heart and show how much you care and how sorry you are to your teammates for putting them through something like this that really could tear a locker room apart. It's all on me. It's my job to let guys know that I messed up and I've got to bounce back from it."