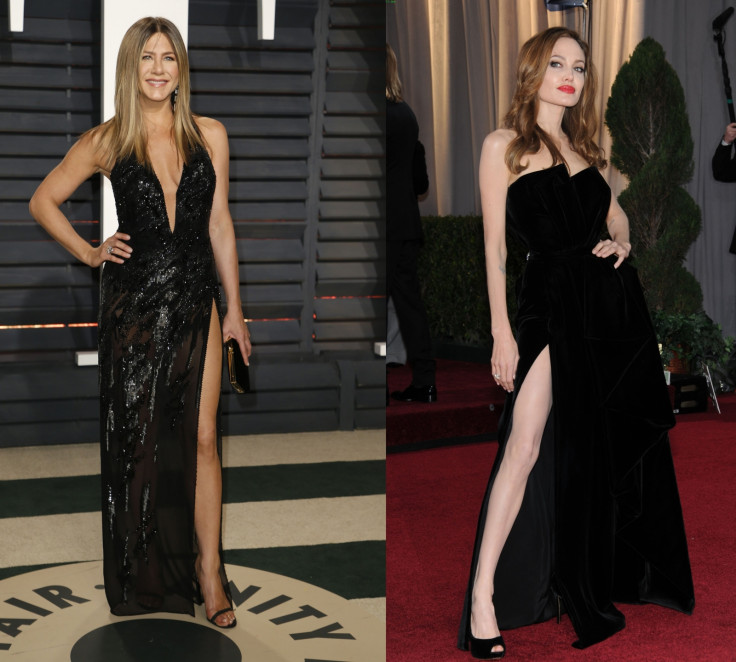 Jennifer Aniston sure knows how to make the most of her rare appearances at the award shows. Dressed in a low-cut black sequined dress, the actress took to Oscar's stage on Sunday night to introduce the In Memoriam tribute, but it was her risqué slit that caught Twitter's attention.
What followed next was a flurry of tweets as eagle-eyed fans drew comparisons between Aniston's last night style and fellow actress Angelina Jolie's infamous black velvet Versace gown from 2012. The Friends actress was dressed in a custom Atelier Versace gown featuring a plunging neckline and a slit that ran all the way up to her thighs.
One fan spotted the similarity and tweeted, "Jen Aniston is really trying to steal that thigh slit fame from Angelina Jolie. Damn girl. #Oscars2017." While another commented, "Maybe too obscure, Jennifer Aniston nearly repeated Angelina Jolie's 'The Leg'".
While the mega-high slit seemed to be the only similarity between the two Hollywood stars' Oscar outfits, Twitter went a step ahead with reading into the situation.
"Oh look at Jennifer Aniston doing an Angelina Jolie with the dress. Trying to get Brad Pitt, maybe?" read one of the brutal tweets pitting Anniston against Jolie. Another reason why fans were all too excited about the actress' choice of outfit could be because of the history of their relationship with Pitt.
The allied actor was married to Aniston until 2005 when he started dating Jolie following their movie Mr. and Mrs. Smith. Unfortunately after 12 years of partnership, Pitt and Jolie's relationship too has fallen apart as the couple is currently in the middle of a divorce and custody battle.
Incidentally, the Maleficent actress too had donned a similar risqué dress on the Oscar's red carpet in 2012. Her strapless black Versace gown featured an elaborate skirt and a hidden slit, which was visible only when the actress posed in a certain manner.
Check out some of the other hilarious tweets and comparisons below: