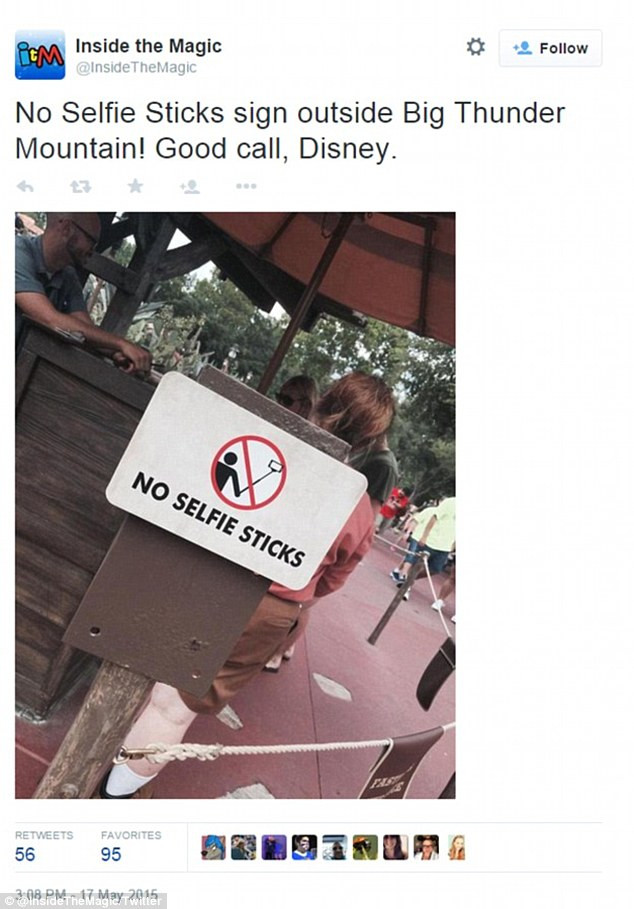 Disney has banned the use of all selfie sticks at its theme parks around the world over safety concerns.
The gadgets were already barred on rides on the theme parks but this has now been extended to its grounds as well. Visitors are now advised not to bring them to the park at all.
A company spokeswoman told the BBC: Handheld extension poles have become a growing safety concern for both our guests and cast."
The ban takes effect at Disney parks in the US on 30 June while in Paris and Hong Kong, it will take effect from 1 July.
Visitors will be asked to leave their selfie sticks in lockers at the parks' entrances and can collect them when leaving the theme park.
The selfie sticks allow the users to take better pictures of themselves but there are fears that they could injure others while being used.
In addition, they can be a risk on rides as they can extend far beyond the carriages and could come into contact with the ride's mechanism, the BBC said.
The National Gallery, a number of football clubs and the All England Lawn Tennis & Croquet Club in Wimbledon already have such a ban in place over concerns they could cause injury or be a nuisance to other visitors.
The Daily Mail reported that the selfie sticks were banned after a roller coaster ride in the US was forced to be shut down when one of the riders was found to be using a selfie stick while on the ride.
While the selfie stick was confiscated, it took just under an hour to get the California Screamin ride running again, the newspaper said.