A disturbing picture has emerged of the Air Force One plane carrying US President Donald Trump flying past the broken windows of a hotel room from where a gunman massacred concertgoers a few days earlier in what was the country's deadliest mass shooting in modern times.
Stephen C Paddock, 64, killed 59 people and injured hundreds more as he opened fire on a crowd during the Route 91 Harvest country music festival in Las Vegas, Nevada, on Sunday 1 October. He shot people from the 32nd floor of the Mandalay Bay hotel, across the street from the site of the festival, before police found him dead from a self-inflicted gunshot wound.
Trump flew to Las Vegas to visit victims of the mass shooting and security forces who intervened to stop the attack.
"It makes you very proud to be an American when you see the job that they've done," Trump told reporters at the University Medical Center in Las Vegas. "Words cannot describe the bravery that the whole world witnessed on Sunday night. Americans defied death and hatred with love and with courage," he continued.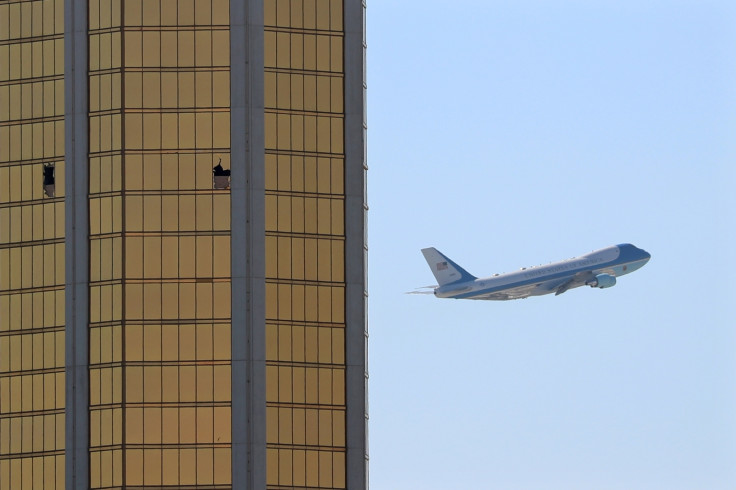 Paddock's motive still unknown
Police recovered more than 40 weapons belonging to Paddock. At least 23 were in the hotel room he used to launch his massacre by smashing two windows with a hammer and opening fire on the 22,000-strong crowd gathered helplessly below.
Authorities also found tripods and assault-style rifles that appeared to have been modified to convert them into machine guns, so that he could fire more rounds faster.
Paddock is thought to have added 'bump stock' devices to at least one of his semi-automatic weapons – which typically only fire one round every time the trigger is pulled – so that it could fire continuously.
Authorities said that Paddock's arsenal, gun accessories and cameras he had installed in the hallway outside his room suggest the attack has been "pre-planned extensively".
Police believe that Paddock acted alone, but investigation into the mass shooting is ongoing.
Although the Islamic State (Isis) terror group claimed responsibility for the attack, both analysts and US officials dismissed the claims as unsubstantiated.
Paddock's brother told reporters that, as far as he knew, the gunman held no religious or political affiliation and must have "snapped" when he went on a killing spree.
The gunman's girlfriend Marilou Danley described her partner as a "kind, caring, quiet man". She was in the Philippines when the massacre took place and was questioned by the FBI upon return to the US as a "person of interest" in the criminal case.
Authorities had hoped Danley could provide more insight into Paddock's motives and planning of the attack. However, she said in a statement that she had no idea her boyfriend was planning "something horrible like this".
She said that Paddock told her he had found a cheap ticket to the Philippines and wanted her to take a trip to visit her family.
"While there, he wired me money, which he said was for me to buy a house for me and my family," she said.
"I was grateful, but honestly, I was worried that first, the unexpected trip home, and then the money, was a way of breaking up with me. It never occurred to me in any way whatsoever that he was planning violence against anyone."
Danley said she will cooperate fully with the authorities and asked for her privacy to be respected.