Valve's MOBA sensation Dota 2 continues to raise the bar for eSports prize pots, with the company's own The International 2015 tournament now sitting at over $11m (£7.17m) – and it is not stopping there. This means it has broken its own record set during The International 2014, which reached a then staggering $10.93m.
In 2014, this was an unprecedented success. The winning team NewBee walked away with over $5m. Runner-up ViCi Gaming commiserated themselves with $1.46m. Valve boasted 20 million unique viewers throughout the tournament, with a peak of two million concurrent viewers.
This attracted the attention of ESPN, who will be expanding its eSport coverage. Along with the viewer numbers comes the spread betting, and betting company Unikrn, which recently got its eSport bookie licence in the UK, reckons video game tournaments will soon surpass NFL in magnitude.
However, it is strangely out of step with the eSport landscape. Dota 2 in February 2015 surpassed one million concurrent players during its daily peak. An impressive measure somewhat diminished in the light of its eSport rival (a game of the same spiritual genus) League of Legends (LoL), which boasts a whopping 7.5 million concurrent players at peak. However, in contrast, LoL's big ticket World Championship 2014 tournament only scratched together a meagre $2.1m for its prize pool.
All in all, this is not a bad showing for free games on the PC platform that is often an afterthought for the mainstream AAA publishers.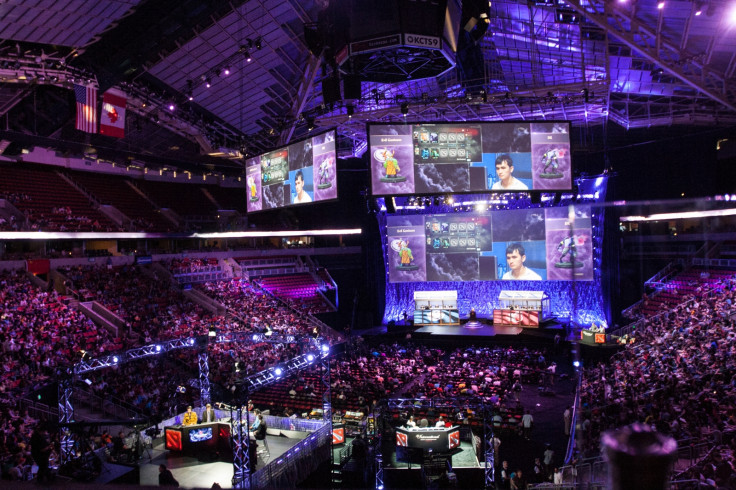 Biggest eSports prize ever
Come 2015, and the Dota 2 International prize pool is on its way to $15m. To put this in perspective, it is sitting at the high table of televised physical sporting events with millions in viewers and prize money, such as the Cricket World Cup ($10.2m), Masters Golf ($10m), and the NBA ($15m). It has still got some way to go before it reaches the echelons of Wimbledon ($38.1m), World Series Poker ($62.8m), and the absurd world of UEFA Champions League football ($567m) - but that might not be too far-fetched a prospect.
The genius of The International prize money is that it is mostly stubbed up by the thriving player-base community. To Valve's credit they plonked down an initial $1.6m to get the ball rolling, but their apparent philanthropy is quickly subsumed by the consideration that the prize pot (minus $1.6m) represents only 25% of the money flowing through Valve's private account. For every $1m added to the board, Valve is ploughing a further $3m back into its coffers.
Gamer psychology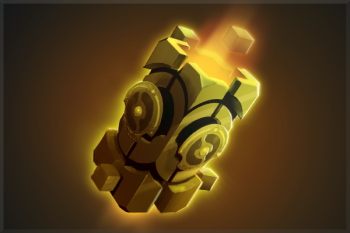 So how does Valve convince typically tight-fisted PC gamers to part with their GPU upgrade money?
In the topsy-turvy and fickle world of gamer allegiances, Valve seems to have cracked the code (to our wallets) by firstly offering a DRM-platform-as-a-service that actually works, and secondly, providing a case study in successfully operating a free-to-play game that is excellent on its technical merits and profitable based solely on the sale of cosmetic micro-transactions.
Yes, for a game on which you need not spend a penny to fully enjoy, Valve has us paying for visual upgrades to our in-game avatars and environments - things that have no bearing on the underlying gameplay balance. It is worth noting you can randomly obtain these items simply by playing the game, although the rare stuff is hard to come by in this way.
The more expensive and "rare" these items are, the more covetous they appear. It is a running joke among the gaming community – "Hide your credit card! It's time for the Steam sale!"; "$30 for a red re-texture and some particle effects on my favourite hero? Shut up and take my money!"
It is either genius, or a sad evolutionary dead-end of a capitalist system gone awry that trades useful imaginary fiat life tokens for virtual goods whose only tangible value is one imposed upon it by its owner and their perception of other players' desire to also strut about the screen with the same gear.
And let us not forget the machinations of the number-crunchers over at Valve HQ that seed the virtual economy. These virtual goods have a resale value through Valve's own commodities market (some can fetch hundreds of dollars) and while that is nice, your money is inextricably locked into the Steam universe, destined to be spent on the next best hat for your hero, or dare I say, a new game.
To promote The International specifically, there are "exclusive" cosmetic items, a meta-game surrounding the participating teams, and prize pot stretch goals that unlock more goodies. This is why we are just about on track to having a $15m prize pool come the day of The International final on 8 August at Seattle's Keyarena.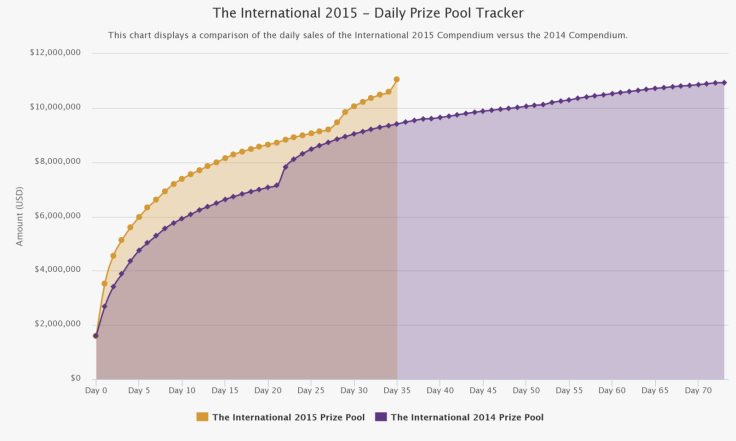 From the graph above, you can see the 2015 International prize pool got off to roaring start compared with the 2014 run (the success of which surprised gamers and Valve alike a year ago). The spike in the graph is due to the release of items unlocked through stretch goals. The 2015 run has a couple more big ticket goodies up its sleeve, so we can expect a few more spikes.
Whatever the final figure, its accolade is all but etched on a Rare Golden Effigy Block of The International 2015 as the biggest (and arguably most prestigious) eSport prize of the year.
Competitive gaming has taken off in a big way over the past few years and has made big in-roads in the UK over the past 12 months or so. UK-based eSports company Gfinity launched the UK's first dedicated eSports arena in London earlier in 2015 and in June, the League of Legends Championship Series is heading to Wembley Arena.
Aside from making a handful of professional gamers rich and bloating Valve's bank account, Dota 2 enriches its community in a number of ways. There are artists and composers creating new items to be paraded and voted upon in Steam's Dota 2 Workshop, and those selected by the community for inclusion in the game earn their creators a slice of the profits too. Soon, it is rumoured, Valve will open up the game to modified maps and game modes, which will add a whole new layer of addiction.
For those not earning a crust from crafting equipment, there is comfort in being part of a storied legacy spanning a veritable gaming aeon from the days of WarCraft 3, and bright eSporting future bookending the exciting present state of the game – but that is a discussion I will get around to, just after a couple more games of Dota 2...