It will be a bittersweet affair for Downton Abbey fans on Christmas Day as the series will air its annual festive special, but it will be the last viewers will see of the Crawley family as the show draws to a close for good. Season six ended with plenty of dramatics but will it be happy-ever-after for the Abbey residents as they celebrate Christmas and ring in the New Year of 1925?
The final two-hour episode of ITV's staple period drama will bring to an end the stories of the Crawley family and their downstairs employees, whom viewers have warmed to since creator Julian Fellowes' show began in 2010. Teasing events of the Christmas special, producers previously stated: "The last ever episode offers all the love and loss, happiness and heartbreak of Downton Abbey, and as the family and servants prepare to welcome 1926 with an unforgettable New Year's Eve we will share our final two hours in their company, and reflect on the ending of a television event."
As fans prepare to wave goodbye to the iconic series, IBTimes UK previews what obstacles the characters will face as they prepare to take on their new chapter...
Lady Mary Crawley
Lord Grantham's eldest daughter finally got her fairytale at the end of season six when she married suitor Henry Talbot despite a hitch threatening their chance of happiness. However, wedded bliss is not all it is cracked up to be for the newlyweds as Henry struggles to cope with the death of his best friend Charlie. Henry is also now the stepfather of Lady Mary's son George but is he ready to settle down and embrace family life at the most difficult time of his life?
Lady Edith Crawley
Tension is rife between Lady Mary and her younger sister Lady Edith thanks to the elder sibling's meddling. In season six, Lady Mary dropped the bombshell that Edith is in fact the mother of little Marigold, putting the breaks on the magazine editor's engagement to Bertie Pelham. There could still be a chance for Edith and Bertie but there may be a spanner thrown in the works thanks to the arrival of his hard-as-nails mother, to be played by Miranda star Patricia Hodge.
Lady Rose Crawley
She bowed out of the series during the 2014 Christmas special to start a new life in New York with her husband Atticus Aldridge so the Downton Abbey crew will be surprised to find Lady Rose has returned a year later. What brings her back? Details are being kept tightly under wraps but actress Lily James, who plays the character, is thrilled to be a part of Downton's last hurrah. The actress told Harper's Bazaar of her return: "It was amazing going back after a break.
"You are just totally re-inspired by the wonder of it, that grand house against grey skies and all the friends you haven't seen in so long. I have such happy, positive memories and a sense of accomplishment about being on the show. I don't know if I'd be sitting here if it weren't for Downton. It would have all been very different."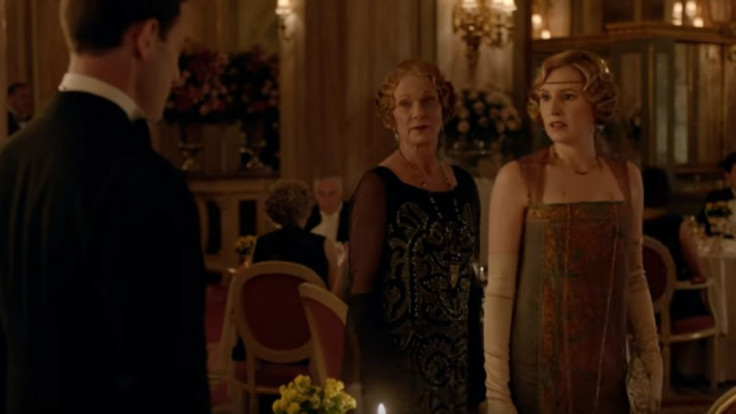 Lord Grantham
A lot has changed around him so it is no surprise that Lord Grantham is in a reflective mood as the new era draws close. The Earl tells Mr Carson in the Christmas episode trailer: "I hope you're not too unhappy about the way things have turned out," to which the butler muses: "The world is a different place from the way it was, my Lord. And Downton Abbey must change with it." Still, Lord Grantham maintains an optimistic outlook on the future, later saying: "We never know what's coming of course, but who does? We have a chance."
Anna and Bates
After six seasons of more than their fair share of trials and tribulations, there may be a triumph for Anna and Bates as the couple will reportedly welcome their baby just in time for the New Year. The couple certainly deserve some joy after recent events which almost put Anna in jail for murder and the pair struggled to conceive.
Thomas Barrow
After a lengthy struggle coming to terms with his sexuality, the under-butler will be waving goodbye to Downton Abbey and onto pastures new. Fortunately, Thomas appears to be at one with himself, declaring in the teaser: "I arrived here as a boy, I leave here as a man."
Dowager Countess, Violet Crawley
Simply put, viewers will want nothing more than an epic one-liner from the queen of put-downs.
The Downton Abbey Christmas special will air at 8:45pm on ITV on Christmas Day (25 December 2015).