Pop superstar Rihanna is at the centre of a drug scandal after posting an internet image of herself pouring white powder, which may or may not be cocaine, over her minder's head.
She faces a backlash after uploading the controversial picture with a caption saying: "Memories don't live like people" on the photo-sharing site, Instagram.
RiRi can be seen on the shoulders of her bodyguard at the Coachella music festival, where she spent the weekend partying with best friend Katy Perry.
She posted two pictures of herself on the shoulders of the man, with another close-up shot of the mystery substance on his head.
"I'm crazy and I don't pretend to be anything else," she tweeted.
Shocked fans have since flooded to the web to blast the 24-year-old singer for her latest provocative move.
More than 1,000 comments have been posted, with many questioning if the star was using cocaine.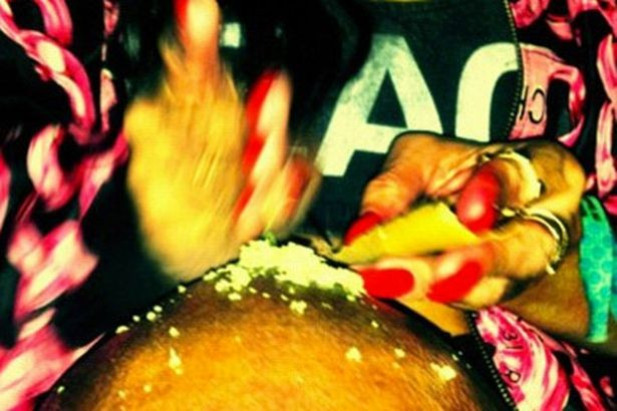 One said: "Is that weed or cocaine". Another said: "Yep take coke! U gonna die."
Fans speculated that she could end up following the same tragic path as Whitney Houston.
"I love her music, not her lifestyle. Hope she gets this under control before we have her funeral on TV like Whitney Houston" one fan said.
An outraged parent questioned her status as a role model by writing: "This girl is a great example of why kids today get in to the drug scene - if their favourite music star is doing it then it can't be wrong.
"Badly raised and a total waste of space, not even that talented she barely sang her song at the Brit awards was too busy cavorting around with next to nothing on."