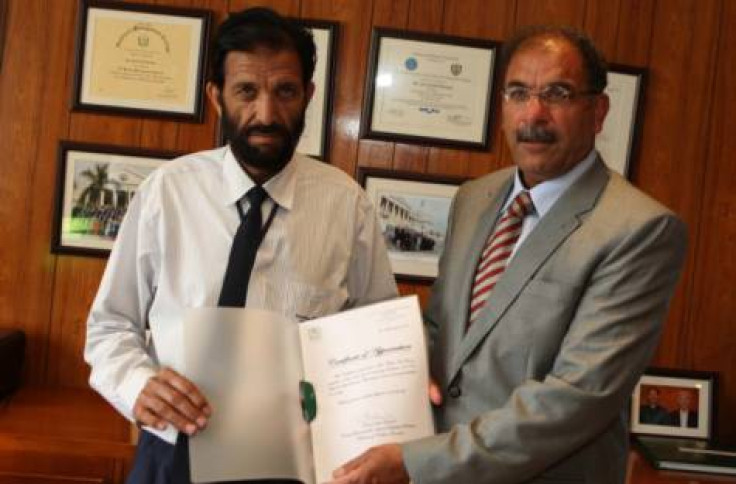 A Pakistani taxi driver in Dubai has been honoured by the police and the Consulate General of Pakistan after he returned £17,539 (AED100,000) left behind by an Iraqi passenger.
The taxi driver and father of six, Mubein Al Haq, said that the money was left behind in a bag after an Iraqi passenger left in a hurry upon reaching his destination in Sharjah.
"The thought of keeping the money never crossed my mind. Even if no one was there to see me take it if I wanted to, I know God was always watching. As soon as I found the cash, I felt sad for the owner of the bag, thinking about the distress he must be in. It was such a pleasure to see him reunited with his property," said Haq.
Haq discovered the bag when doing a routine check of the taxi and handed it over to the Sharjah Police who contacted the passenger.
The unidentified Iraqi passenger had already filed a lost complaint with the police. After Haq was called on to identify him, the bag was returned to its owner.
Haq was honoured by the Sharjah Police earlier this month and the Pakistani embassy too decided to present him with a certificate of appreciation after reading the story in the local newspaper, Gulf News.
"This proves there is no shortage of Pakistanis like Mubein. After reading about him in Gulf News, we invited him to the consulate so we could give recognition to his honest deed. The appreciation will also serve to encourage other people to follow his example," said Javed Jalil Khattak, the Consul General of Pakistan in Dubai.
Khattak applauded Haq's actions as "a shining example of the honesty and strong work ethics of Pakistanis," reported Gulf News.
Taxi drivers in Dubai have often been applauded over their honesty in returning belongings, including cash and jewellery, left behind by passengers.
"I earn an honest living. I would never feed myself and my family with haram [forbidden] money that doesn't belong to me. My family was happy to learn about the incident and supported my decision. I have never sent a haram dirham home to them and they would have never taken it anyway," said Haq.
Haq, 50, has been a taxi driver in the UAE for over 27 years.