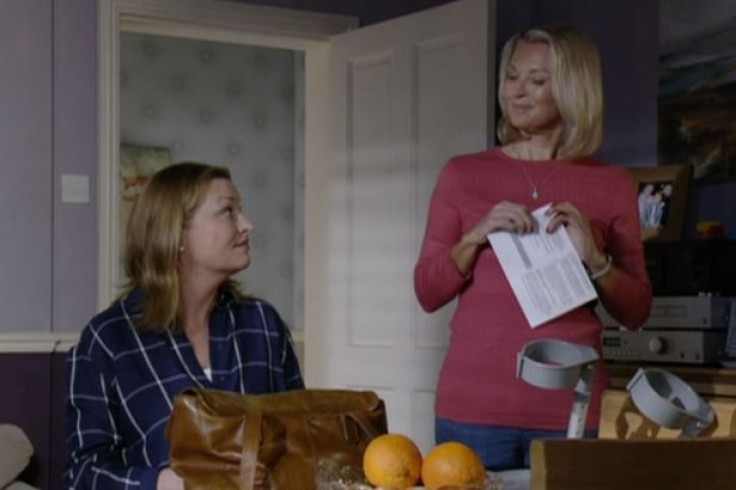 Soaps love getting caught up in current affairs when they can, but EastEnders' election episode got it a little bit wrong last night (8 June).
The BBC1 soap kept it pretty simple in terms of the snap election topic, not going into too much detail while addressing it in a scene with Kathy and Jane. Viewers at home thought it was beyond "cringeworthy," however.
The scene that prompted viewers to laugh saw Kathy grabbing her polling card as Jane asked: "So which way are you going to swing?"
Kathy answered: "My way, the same way I voted last time. Same for you is it?" before Jane remarked: "Yeah".
Kathy added: "And that is?" as Jane replied again: "My way". No mention of Jeremy Corbyn or Theresa May, with EastEnders bosses thinking they were playing it safe.
Eagle-eyed viewers still managed to find cracks in the election episode, with a crucial flaw tainting the soap's political message as Kathy had actually faked her own death and couldn't even vote in the last election which was in 2015. Bummer.
One viewer commented: "Cringing at that scene bout voting sure Kathy you legally dead for years so you're still voting for the same party #EastEnders", as another wrote: "How the hell did Kathy vote? She's been pretending to be dead for the last 10 years. #EastEnders".
A third added: "Kathy was dead in the last election though" as someone else tweeted: "Sorry but how did Kathy vote last time if she was 'dead' in South Africa #eastenders". Whoops.
Elsewhere in the soap, Jack Branning fought back tears as he handed little Matthew over to Charlie Cotton, with fans of the soap struggling to cope with his sorrow after he raised his dead wife Ronnie's son Matthew and felt a strong bond with the little boy.
EastEnders continues at 8pm tonight on BBC1.