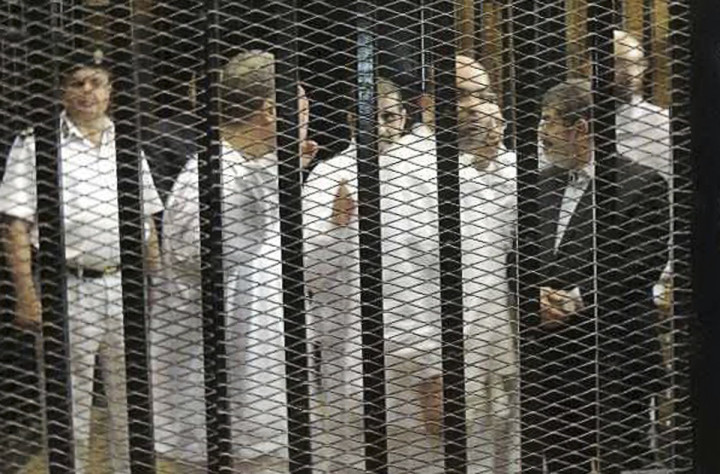 An Egyptian court has confirmed death sentences for 183 Muslim Brotherhood supporters, including its leader Mohammed Badie.
The verdict was delivered by a court in the town of Minya, south of Cairo on Saturday, and comes after a judge recommended the death penalty for 683 defendants accused of attacking a police station in 2013 and killing policemen.
Four of the defendants were given sentences of 15-25 years in prison, while the rest were acquitted.
The mass trial in April was widely criticised and dismissed by defence lawyers as "farcical". Critics say many of those accused were not present during the clashes.
Following the trial, the recommended death sentences were referred to Egypt's supreme Islamic authority, the Grand Mufti, for review. The court was to consider the Grand Mufti's opinion before issuing its final decision. Lawyers say Saturday's upheld ruling can be overturned on appeal.
Since the army ousted Egypt's former Muslim Brotherhood president Mohamed Morsi last July, the military-installed government has cracked down on Islamists.
Egyptian authorities have labelled the Muslim Brotherhood a "terror organisation" and banned current and former members of the group from running in presidential and legislative elections. The government has also sentenced at least 1,000 of its opponents since December.
Brotherhood supporters have held frequent protests against the government, often resulting in violent clashes. In the latest violence, three people were killed during a protest in Cairo on Friday, according to the health ministry.
Morsi has been imprisoned since he was overthrown and is on trial for inciting the killing of opposition protesters outside the presidential palace in December 2012. He also faces charges of espionage in collaboration with the Palestinian group Hamas.
On Thursday, Mohammed Badie and 13 others also received recommended death sentences in relation to a separate case involving deadly clashes last year.