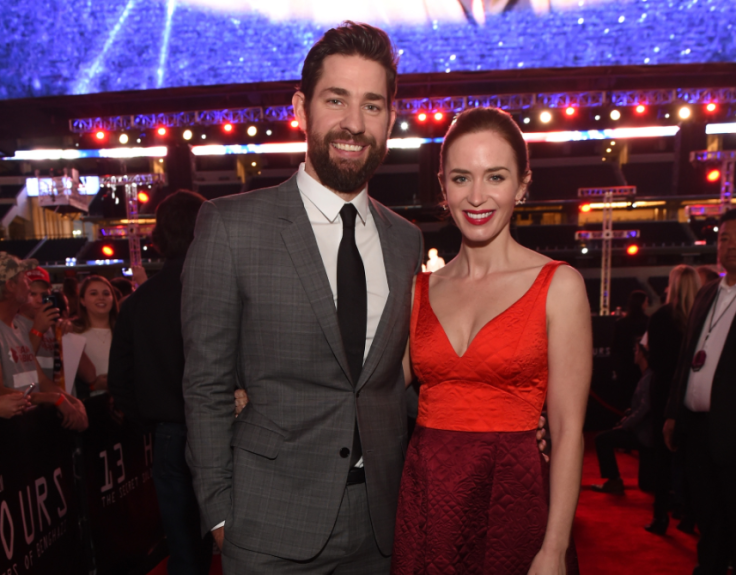 Emily Blunt is pregnant. The Devil Wears Prada star is set to welcome her second child with John Krasinski.
A spokesperson for the couple confirmed the pregnancy news to Us Weekly. Blunt recently sparked pregnancy rumours after she was photographed wearing oversized clothing in New York City while filming her movie The Girl on the Train. The film is based on a novel of the same name by Paula Hawkins.
The 32-year-old actress tied the knot with the License to Wed star in July 2010 after dating for two years. The couple announced they were expecting their first child in September 2013. They welcomed their daughter Hazel in February 2014.
In December 2014, the English actress said having a child had changed her life. She told People: "It is that and more. I know that everybody says that. Everybody says, 'Oh it's the best — it's the best thing ever'!"
During an appearance on the Ellen DeGeneres show, Krasinski gushed about their daughter. He said: "She is talking. She's talking a lot. She's starting to do little bits, which is hilarious. Like if she's looking for me instead of saying, 'Daddy, Daddy,' she says, 'Where is that daddy?' And she's starting to pick up on Emily's accent."
In an interview with The Daily Beast, the actor talked about Blunt. He said: "For me, the best days of my life started when I met my wife – that's the truth, it's not just me saying it because it sounds nice on a card. She's one of the coolest people, she's so talented, she's beautiful, and she's certainly out of my league. When you're lucky enough to meet your one person, then life takes a turn for the best. It can't get better than that."