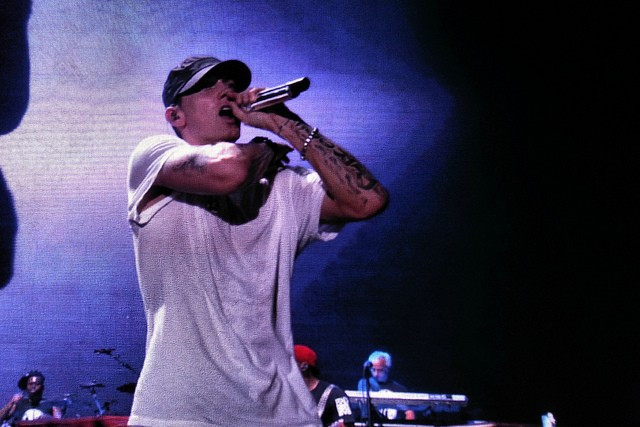 A new study suggests that listening to music by Eminem can boost athletic performance by up to 10%. Researchers spent three months working with the British swimmer Ben Hooper to develop a "soundtrack to success" in anticipation of his 2,000-mile swim across the Atlantic in December.
Some of the US rapper's best-known hits including Lose Yourself and Without Me were found to "significantly" increase power and endurance during prolonged periods of intensive exercise.
Sports psychologst, Richard Collins, who led the research, explained: "With Ben, listening to Eminem inspires confidence and determination as there is a general theme of triumphing against the odds. Other songs made him think of his daughter and reminded him why he's doing this historic challenge – to show that ordinary people can achieve the extraordinary."
It was found, that when he listened to a successful playlist, the time it took Mr Hooper to complete a 12km swim in a standard pool fell from an average of four hours to just three hours and 47 minutes. His pace per 100m had also increased from two minutes, to one minute and 48 seconds.
Other tracks which were found to have a "surprisingly beneficial" effect on Mr Hooper's results included Don't You Worry Child by Swedish House Mafia, as well as Hall of Fame by The Script.
The study also discovered the songs that should be avoided with the mellow music of Bob Marley likely to cause fatigue and a lacklustre performance. Aerosmith's l Don't Want To Miss A Thing had similar effect while "cheesy" songs like Eye Of The Tiger, were found to have no major impact on motivation or performance.
According to Sky News, the study by Hartpury College also found that lyrics must "strike a chord with the test subject" and have "emotional resonance" if there is to be any noticeable effect on their performance.
The top 10 songs - along with some of Mr Hooper's personal favourites - have been added to a waterproof MP3 player in preparation for the beginning of his epic journey on New Year's Eve.
The athlete, from Cheltenham, said the study "will prove of great benefit to me as I'm battling the elements and needing every ounce of motivation I can muster to keep on going".