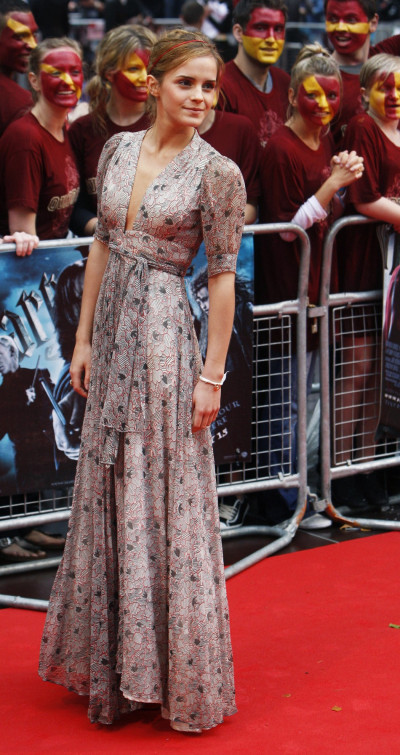 The brand ambassador of cosmetic brand Lancome, Emma Watson, has revealed that natural beauty is what works for her. Apparently, the star does not wear make-up during the day.
"I love the French 'less is more' look - there's something very classy about it. It's so sad when people hide themselves behind too much make-up. I love French pharmacies. I'm obsessed - I could spend hours. They take a very medical, pharmaceutical approach to the face," Watson told Glamour magazine. The Harry Potter girl said that she feels bad when women hide their beauty under make-up.
The secret behind Watson's beauty are facials and eye drops, according to the actress.
"I love having facials. I think it makes more of a difference to how I feel than a full-body massage does. You feel so fresh and new. And eye drops... genius! The anti-redness ones are so good," she said.
Even though Watson promotes natural beauty, she secretly discloses that she loves doing make-up too.
"I love doing make-up. I did my mum's make-up for all her job interviews and whenever I go out, I do their make-up too. My specialty? I like quite a natural look, but I do everything really. People underestimate the power of an eyebrow. I recently got my friend into pencilling hers in, which she thought was such a strange concept at first. Don't listen to everyone. It's kind of overwhelming, especially with your diet and skincare. You get so many different pieces of advice; you don't know what to listen to. I think people need to judge what works for them and trust their intuition," Watson said.
Watson also said that her hair styles reflected the phase she was going through. The short hair was apparently the mourning of the end of the Harry Potter series.
"This sounds so ridiculous, but if you analyse what I've done with my hair over the years, it always matches my moods. Cutting off all my hair was all about getting rid of Harry Potter, and going dark was about mourning the end of Potter," she explained.