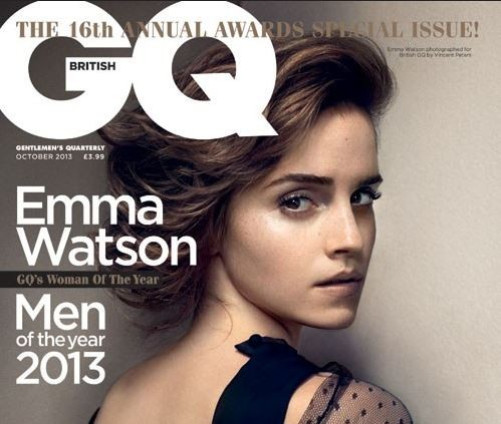 Emma Watson looks stunning on the cover of British GQ magazine's October issue.
In the cover image, the 23-year-old British actress, who was named GQ's Woman of the Year, has her back towards the camera, wearing a back-baring velvet dress with sheer polka dot sleeves and hair swept to the side.
"She has a grace and a level-headedness rare amongst former child stars, and is quickly becoming one of Britain's most exciting leading ladies," the magazine says of the 23-year-old actress in the feature.
Watson posted a photo of the cover on her Twitter account on 3 September and thanked GQ UK for the award.
"@BritishGQ Mud throwing, general hilarity and great company at the awards tonight.Very proud to be part of your female contingency.thank you!" Watson tweeted.
At the GQ Men of the Year Awards which was held at The Royal Opera House, Watson was joined by her My Week with Marilyn co-star Eddie Redmayne. The Harry Potter star showed off her midriff in a ivory-coloured bra-cape from Balenciaga's resort 2014 collection and teamed it up with high-waisted black trousers. She also opted for open-toed heels covered in black sequins and Sydney Evan jewellery.
On a professional front, Watson, after her role as Hermione Granger in the Harry Potter films, has been working hard to create a new identity for herself.
"I wanted to make a conscious adult decision that this was what I wanted to pursue, because that decision was made for me as a nine-year-old. I had no idea what I wanted. I had no idea who I was really. So I wanted to step away and make sure this is what I wanted to pour my life and my energy and my blood, sweat, and tears into," she told EW magazine.