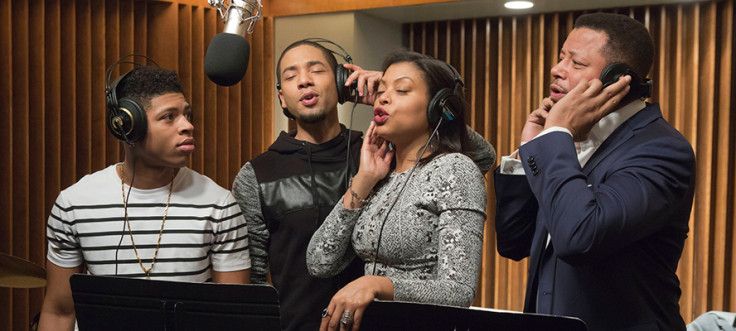 Empire's new episode will see the Lyon brothers trying to save Empire, as Anika stabs Lucious and teams up with his rival.
Episode 9 is titled, Unto The Breach, which will air on 4 March, 2015 on Fox.
The official synopsis reads as follows:
It's an all-out war when Cookie uncovers Anika's big backstabbing secret, and Lucious must come face-to-face with his longtime rival, Billy Beretti (guest star Judd Nelson). As the Lyon family rallies to save Empire Entertainment, all three sons take drastic measures: Jamal gets close with famous artist Delphine (guest star Estelle), Hakeem works hand-in-hand with Cookie and Andre is pushed way beyond his limits.
In the last episode, Lyon's Roar, Lucious chooses Anika over Cookie, and Jamal finally comes out as gay with his musical performance, You're So Beautiful
Before the performance, Jamal pays tribute to his father, and says, "The most brilliant man that I know taught me that music is the truth. I'm honored tonight to be able to use his music to explain to you all some of my truths."
But he alters the song's original lyrics, "This is the type of song that makes a woman love a man," to "This is the type of song that makes a man love a man."
The reaction to his coming out is positive, his mother Cookie shouts, 'I love you', Hakeem salutes his brother's daring stunt and the crowd goes wild.
Lucious, on the other hand, has a flashback of young Jamal wearing heels as a child. His response at the time was to physically carry Jamal outside and dump him in a garbage can.
The media go wild and we see news headlines like 'Lucious Lyon's son came out last night during an audacious performance.' 'The Lyon Roars' reads a news headline visible on Cookie's iPad, which she proudly shows Lucious.
"He came out to the world, and nothing changed, Lucious. You're still you. He's still Jamal. The whole world knows. No one cares. The world is still spinning, Lucious. No one cares that he's gay," Cookie proclaims.
"But I do. I care so much. The legacy album is dead," Lucious said. "This is not a family; this is a disgrace."
In an interview with The Hollywood Reporter Jussie Smollett talks about Lucious and Jamal's relationship, whether it can be repaired, and how his character will move forward in the industry as a gay artist.
Smollett said, "Jamal's life is shining brighter, so with that comes more scrutiny, with that comes more attention, and there's definitely more talk because Jamal is becoming more successful [and] more famous.
"There definitely is a door that's opening. The thing is, too, that for Lucious, he's all about image, and what the public thinks of you, and there's very much that business savvy, mogul, yet old-school mentality of what the public wants to see. "
He added, "That's the magic of Jamal: Jamal is able to see past what Lucious is able to see as a mogul and as a suit. As an artist, Jamal is able to look at it as an individual. Because he's always been an outsider looking in, and because he's an underdog, he's able to see it more in a balanced way."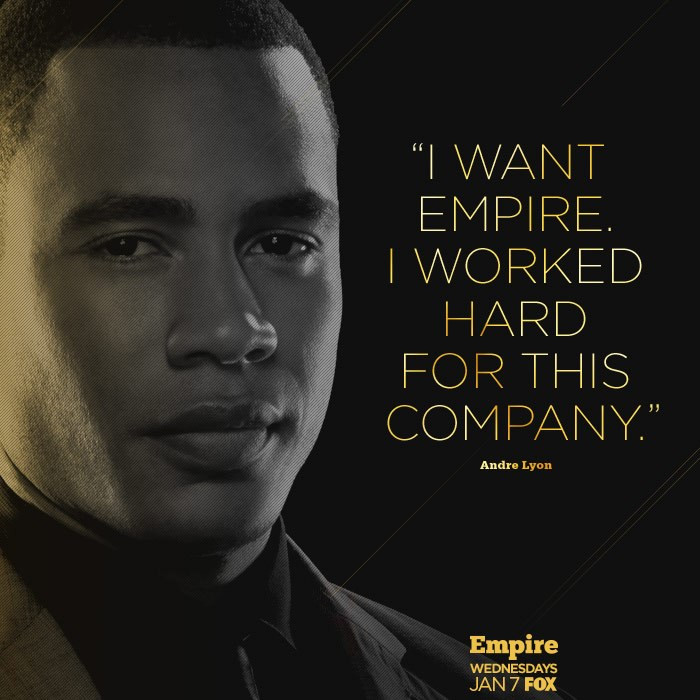 Meanwhile, a new promo for the next episode shows Cookie telling Lucious that Anika is working with his rival, Beretti, as the show gears up for war against its competitors.
The Lyon family comes closer in times of crises, with Jamal standing up for his father's company except for Andre.
In the promo video, we see Andre flushing his pills unable to handle his father's disappointment, and finally losing his mind.
The promo video shows Andre's breakdown, as he tells Hakeeem and Jamal, "He will never see me, like he sees you."
The finale scene shows Lucious trying to calm Andre down, but after he starts acting crazy he is taken down by the security personnel.
Watch the next episode's promo here: