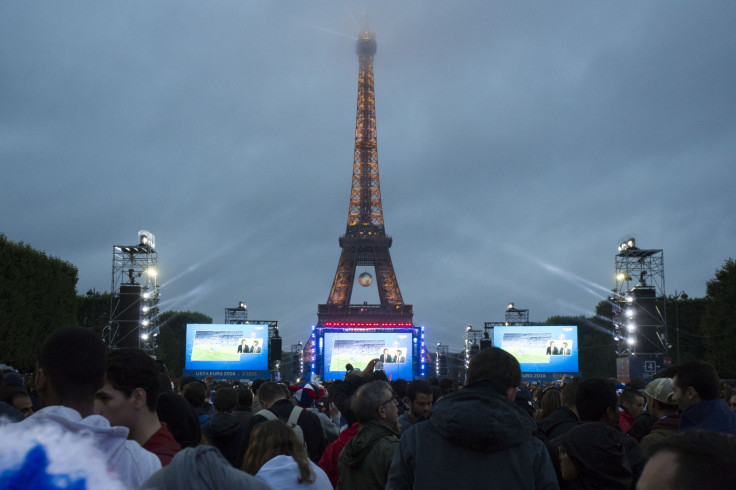 Thousands of screaming football fans were caught in a chaotic stampede at the Paris Euro 2016 fan zone over the weekend after firecrackers were reportedly mistaken for a terrorist attack.
A large crowd of supporters had gathered at the foot of the Eiffel Tower to watch the quarter final match between Italy and Germany on Saturday (2 July) when panic suddenly spread.
Footage showed hordes of people sprint for the exits with reports of some fans trampled after being knocked to the ground. Paramedics were later seen treating injured supporters.
One fan caught up in the incident, Ali Gourlay, 26, from London, said: "I saw sheer panic. It was everyone for themselves. There was no direction, no one knew what was happening. Everyone just ran. I thought I saw a firecracker."
Another said on Twitter: "Scariest moment ever. On crutches; herd of people fleeing FanZone shouting 'fire.'"
While many fans claimed the stampede was sparked after an individual let off some firecrackers, City of Paris officials told L'Equipe that a fight between supporters was to blame. Police say a few dozen people received minor injuries, with one person being treated in hospital.
A major anti-terrorism operation has surrounded the Euro 2016 tournament amidst fears another attack, similar to those carried out in Paris in November and in Brussels in March, could target fans. The French government extended the state of emergency it imposed following the Paris attacks to cover the tournament, while also drafting in extra police.
Before the start of the tournament, the US had warned those travelling to France during Euro 2016 that they could be a target for a terrorist attack. The US Department of State updated its Europe Travel Alert to include a warning that the number of tourists visiting Europe in the summer months "will present greater targets for terrorists planning attacks in public locations," especially at large events.
On Sunday, French police carried out a controlled explosion at the Stade de France in Paris just hours before France's 5-2 quarter final victory over Iceland. Officials played down the incident, however, saying officers blew open the door of an illegally parked car outside the stadium.