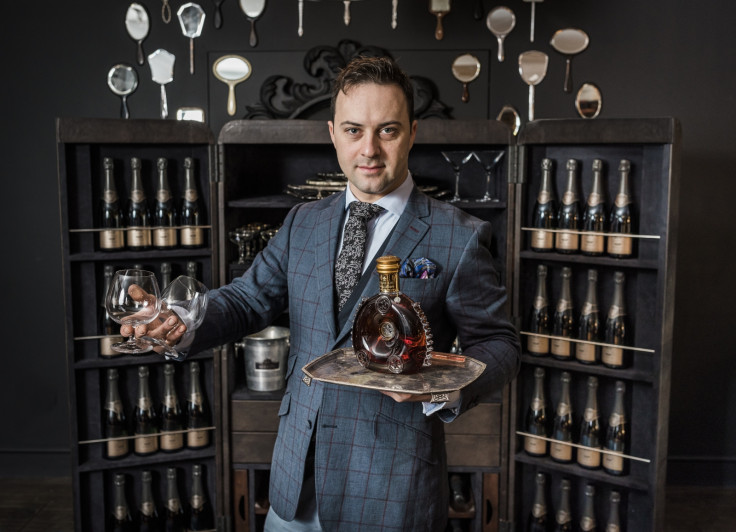 For devotees of the very best of Christmas spirit(s), furniture and cigars, luxury launches site VeryFirstTo.com has partnered with British furniture and interiors company Timothy Oulton to offer the world's most remarkable bar cabinet.
The Ultimate Bar Cabinet comes stocked with some of the world's finest drink and cigars and is delivered together with award-winning bartender Marian Beke (for a weekend).
The luxurious bar contains a range of exquisite drinks including: The Glenlivet Winchester 50 Yr Old Single Malt whisky (@ $24,404/ £19,995), Domaine De La RomanéIlete-Conti, Romanée Conti 1997 wine (@ $23,183/ £18,995), and Louis Roederer, Cristal Gold Flacon Jeroboam, 2002 (@ $20,738/ £16,995).
The smoker's dream line-up of cigars curated by James J Fox (est. 1787) includes: Partagás Gran Reserva Lusitanias (@ $318/ £260 each) and Hoyo de Monterrey Diademas Vintage 1980's (@ $244/ £200 each).
Award-winning bartender Marian Beke, whose customers include royalty and pop singer Robbie Williams, will arrive with the bar cabinet and spend the weekend with you. Not only will he create magnificent bespoke cocktails according to you and your guests' palates and mood, but he'll deliver his famed mixology master classes too.
Timothy Oulton, Founder and Creative Director of his global brand, says: "The new speakeasy-inspired Hudson collection is all about having people over, enjoying a drink and letting go. The Ultimate Bar Cabinet conveys that ever so slightly defiant streak, that insists on having a good time and going on a little later."
Marcel Knobil, founder of VeryFirstTo, Superbrands and Cool BrandLeaders comments: "Thanks to a combination of the most beautifully crafted furniture, some of the world's rarest drink and cigars, and the talents of one of the globe's top bartenders, VeryFirstTo is offering the most outstanding bar cabinet available. Nothing like this has ever previously been offered and may never be possible again."