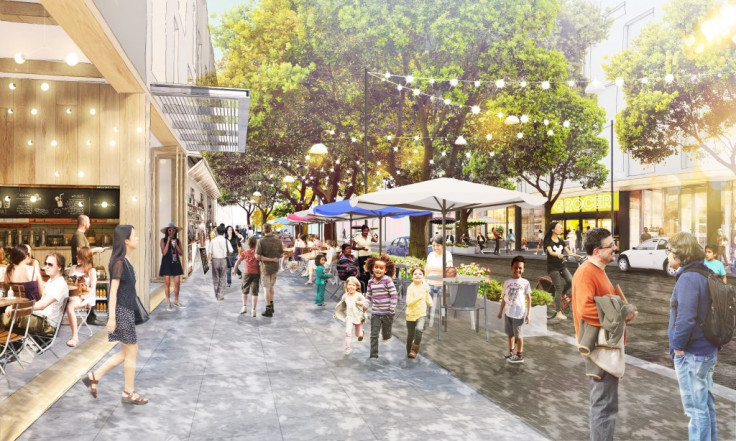 Facebook is building a brand new "village" packed with 1,500 apartments, a grocery store, a pharmacy, public parks and more for its employees as California's Silicon Valley continues to deal with severe housing shortage. The announcement comes more than two years after Facebook first moved into its 430,000sq ft headquarters designed by Canadian-American architect Frank Gehry.
Announced on Friday, the new "integrated, mixed-use village" called Willow Campus, will be located near Facebook's headquarters in Menlo Park and will feature 1,500 housing units and 125,000sq ft of retail space in total.
The campus will include 1,500 housing units open to anyone — 15% of which will be offered at below market rates — as well as grocery stores, a pharmacy, public parks, a shopping centre, transportation services and other amenities.
Facebook said it has submitted plans to Menlo Park officials and expects the review process to last about two years.
"Our goal for the Willow Campus is to create an integrated, mixed-use village that will provide much needed services, housing and transit solutions as well as office space", John Tenanes, Facebook's vice president of global facilities and real estate said. "Part of our vision is to create a neighborhood center that provides long-needed community services.
"We envision construction will follow in phases, with the first to include the grocery, retail, housing and office completed in early 2021, and subsequent phases will take two years each to complete."
The announcement comes as Silicon Valley companies have dramatically changed neighbourhoods and catapulted rent prices in the Bay Area with the influx of tens of thousands of employees in recent years, making housing unaffordable in the area.
To tackle the issue, companies have responded with various measures including incentives for employees who move closer to their offices, investing in modular homes for short-term employee housing and offering internet-equipped buses for employees with longer commutes.
However, these companies have continued to draw fierce criticism for not addressing the housing crisis directly.
Tenanes said housing is "critically important" to its new proposed development plans, adding that it could help spur investment in transit projects as well.
"The region's failure to continue to invest in our transportation infrastructure alongside growth has led to congestion and delay", Tenanes said. "Willow Campus will be an opportunity to catalyze regional transit investment by providing planned density sufficient to support new east-west connections and a future transit center."
Facebook said it is also investing "tens of millions of dollars" in nearby Highway 101 as well.
Menlo Park mayor Kirsten Keith praised Facebook's development plan to address the housing crisis.
"Peninsula cities have a housing crisis," Keith tweeted. "I hope more tech companies come forward with affordable housing proposals as Facebook has done."
"Our hope is to create a physical space that supports our community and builds on our existing programs", Tenanes said. "This is only the beginning.
"Going forward, we plan to continue to work closely with local leaders and community members to ensure Facebook's presence is a benefit to the community. It's one we're lucky to call home."