The FBI has asked the public to help identify an English-speaking Isis (now known as Islamic State) militant who appeared presiding over a mass execution in Syria in one of the radicals' propaganda videos.
In the video the extremist wears desert camouflage and switches between English and Arabic.
Soldiers he claims were loyal to Syrian president Bashar al-Assad are seen in the background "digging their own graves".
Standing in front of the black IS flag, the man says the men are being punished for "terrorising" Muslims in nearby town Raqqa.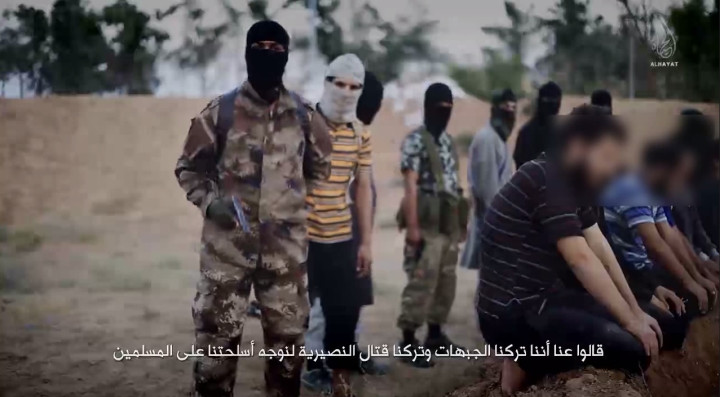 The 55-minute video, which was was released on 19 September, then shows the soldiers lined up in front of a mass grave before they are apparently executed.
By highlighting a segment from the video, the FBI hopes someone might recognise the man through his voice and appearance.
"We're hoping that someone might recognise this individual and provide us with key pieces of information," assistant director of the FBI's Counterterrorism Division Michael Steinbach said. "No piece of information is too small."
'Troubled souls'
The appeal comes after FBI director James Comey appeared on US television to discuss the dozen Americans believed to have joined IS.
"These homegrown violent extremists are troubled souls who are seeking meaning in some misguided way," Comey said during an interview aired Sunday on the 60 Minutes news programme.
"And so they come across the propaganda and they become radicalised on their own independent study, and they're also able to equip themselves with training again on the internet, and then engage in jihad after emerging from their basement."

UK arrests
Yesterday anti-terror police arrested four men in dawns raids across London suspected of planning an attack, possibly on UK soil.
Armed police from specialist firearms unit SCO19 swooped after surveillance suggested one of the suspects may have had access to weapons. He was tasered during the operation but is said to be unhurt.
"A number of residential addresses and vehicles are being searched by specialist officers in west and central London as part of the investigation. The searches are ongoing. These arrests and searches are part of an ongoing investigation into Islamist-related terrorism," a statement from Scotland Yard said.