Fear The Walking Dead season 2 is just few weeks away from its premiere and new details about AMC's zombie thriller have surfaced, suggesting fast-paced drama. The season one of the horror thriller was a slow burn as the show creators wanted to introduce the onset of an apocalypse and how it slowly engulfed humanity. The slow burn was also a reason why fans saw minimal zombies.
But no more complains. Fans can now expect hordes of undeads swarming over the streets of Los Angeles. And in this season of FTWD, the zombies will be a bit more decayed than the first season.
In an exclusive interview with AMC Global and BT (British Telecommunications), executive producer and showrunner Dave Erickson revealed new details about the zombies.
"We're a little bit further along in season two so they'll have decayed a bit more and atrophied a little. And there are other factors and elements. We're in salt water in the ocean and under a baking hot sun," he said.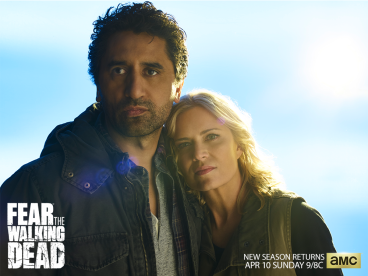 However, Erickson also hinted that the human element in the show will be intact and there are few characters who still have hope for a little bit of emotional expectations from the blood and flesh hungry zombies.
"So you'll see a progression in their appearance but fundamentally they've recently become the infected and it's very difficult to put one of them down. That takes its toll emotionally. We're actually humanizing the dead, and we want to continue to show the weight and pressure that puts on our characters when they have to dispatch these 'people'," he added.
In season 1, Travis Manawa (Cliff Curtis) found it difficult to accept the harsh reality and considered his sick (zombie) neighbour as a human and was hesitant to kill her. His fiancé Madison Clarke and fellow survivor Daniel Salazar, however, realised that the world is no more safe and killing the infected and moving towards a sanctuary is the best option.
"Some of our characters still want to recognize the infected as having some degree of humanity left and perhaps some intelligence or understanding. We had our first zombie horde at the end of last season and we'll definitely have lots more infected in this season. But we still want to hold onto the idea that Robert [Kirkman] established — we never want the dead to become just 'cannon fodder'. I think that adds a real perspective to the storytelling that we can explore. So, even if they look more gross, we want to hold onto their human qualities."
Fear the Walking Dead season 2 will premiere on AMC on 10 April at 9.30pm ET in the US (11 April 2am GMT). There will be a repeat telecast later that evening at 9pm GMT exclusively for BT viewers.