A man has been shot and critically injured in Ferguson, Missouri, after crowds protesting against the police killing of unarmed black teenager Michael Brown took to the streets in defiance of a curfew imposed by the state governor.
Police said that one man was shot and seven arrested, as protesters defied last night's curfew. The man was taken to hospital and police said he "may lose his life" after he was hit by a bullet fired by someone in the crowd, according to Sky News.
"I can tell you that I was disappointed in the actions of tonight," State Highway Patrol Capt. Ron Johnson, in charge of security for the town, said, reports CNN.
Johnson said that there was a person in the street with a handgun, and a police car was also fired at.
Hours after Missouri governor Jay Nixon declared a state of emergency, dozens of protesters broke a midnight to 5am curfew, raising their arms in the air in the gesture that it is claimed teenager Michael Brown was making before he was shot.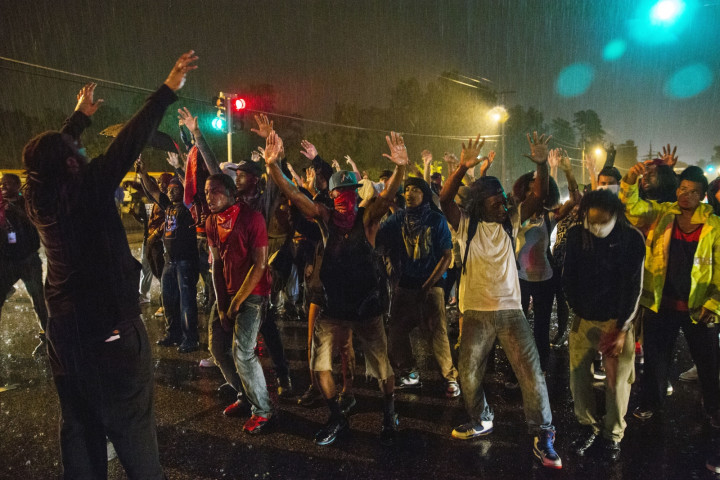 Johnson said that police fired tear gas canisters to clear crowds, after they received reports that a someone had been shot, a police car shot at, and there was a man on the street with a handgun.
He said that the police operation was in response to the unrest that broke out near the Red The BBQ Man restaurant, and not in response to the curfew having been broken.
By the time police got to the scene, the shooting victim had been taken by private vehicle to a hospital, said Johnson, and added that he did not know if the victim was a protester.
St. Louis Alderman Antonio French, who has been at the demonstrations all week, told the St Louis Post Dispatch that police tactics "were a lot better" than they could have been.
French said he was among political and religious leaders who spoke to groups who did not clear the streets after midnight, "But there was no convincing them." Some, he said, "didn't want to be told to leave."