Police in Fiji are investigating after a video emerged of a group of men repeatedly shooting at what are believed to be fishermen out at sea.
The graphic video posted on to YouTube shows what appears to be four fishermen being killed from shots being fired from a commercial vessel.
The video is said to have come from a mobile phone left behind by an Asian fishing boat crew in a taxi in Fiji's capital of Suva.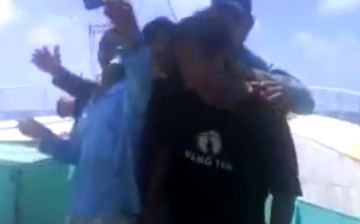 The men on board the boat, believed to be a tuna fishing vessel, can also be heard celebrating and smiling at the camera towards the end of the video.
An interpreter told New Zealand's ONE News one crew member can be heard saying in Vietnamese: "If you see anyone, just kill."
Another voice can also be heard saying, "Look ahead there, one and two," over the boat's loudspeaker.
Fiji Police are appealing to Interpol for help in verifying the footage.
Spokesman Atunaisa Sokomuri said: "There is no clear evidence to identify the victims as Fijian citizens, nor is there a clear indication of where or when this gruesome incident took place."
However, the president of the Fiji Tuna Boat Owners Association, Graham Southwick, said the people in the water are Somalia pirates following a failed hijacking attempt.
"It's a very famous incident and this didn't happen in Fiji, it happened off the coast of Somalia," he told Australian radio show Pacific Beat.
"The graphic pictures you see of people gunned in the water are not Fijians, but Somali pirates that attempted a hijack of some Taiwanese vessels, that attempted a hijack that backfired and they all got gunned down."
YouTube said they did not comment on individual stories, but the company's guidelines state the site prohibits graphic or violent content, unless it has "clear documentary or news value".
"In cases where a video is not suitable for all viewers, we take care to apply appropriate warnings and age restrictions to safeguard people using our site," a spokesperson added.