The Malaysian navy has set fire to a foreign boat for illegally fishing in its waters, in what is thought to be the first such action by them.
The incident took place off the coast of the northern state of Kelantan on Wednesday (30 August), as Kuala Lumpur turned up the heat on foreign trawlers trespassing in its waters, according to the Malaysia Maritime Enforcement Agency (MMEA).
"This method shows how seriously the MMEA views incursions by foreign fishing boats in Malaysian waters," Reuters cited Mohd Taha Ibrahim, the MMEA's Deputy Director-General of Operations, as saying.
However, the agency did not reveal any details about the fishing boat or its country of origin.
The Southeast Asian nation has apparently sunk 285 foreign trawlers across the country so far in a bid to create artificial reefs. However, the methods used to stop illegal fishing have not made a "deep impact" on foreign fishermen operating in Malaysian waters, Mohd Taha noted.
"The MMEA will continue to ramp up our surveillance and patrols to clamp down on crimes committed out at sea," he added.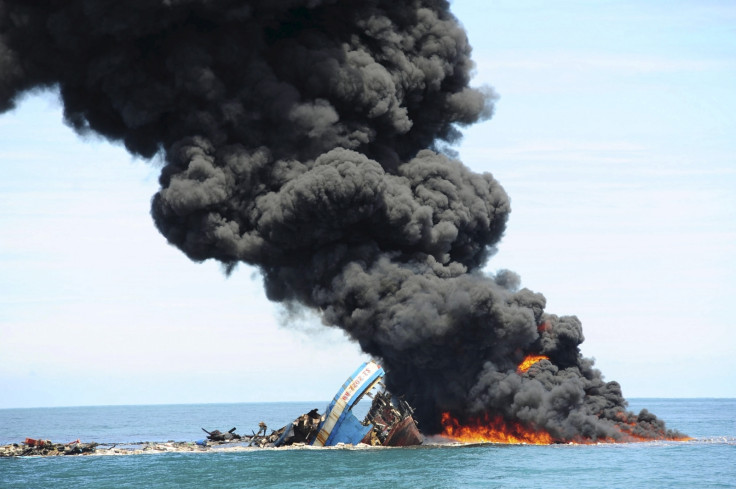 Porous maritime borders have long been a constant source of trouble for Malaysia as the country, like its neighbours, struggles to fight illegal fishing in the region's waters.
Among Southeast Asian countries, Indonesia is reportedly notorious for blowing up foreign boats that are caught fishing illegally. The world's largest archipelago nation has taken a tough stance against illegal fishing since President Jokowi Widodo took office in 2014.
Around 200 fishing boats — from China, Vietnam, Malaysia, and Nigeria — are all reported to have been blown up since, while the fate of over 20 others will be decided by court rulings.
In April this year, Indonesian authorities sank 81 fishing boats — mostly foreign trawlers — after they were caught fishing illegally in its waters.
In early 2016, more than 100 Chinese fishing vessels were detected off the Borneo state of Sarawak carrying out the activity.