Nintendo has been challenged to a cow-milking contest by a farm in the United States, which was inspired by one of the most memorable and bizarre mini-games in Nintendo Switch launch title 1-2 Switch.
The challenge was issued by Billings Farm & Museum in Woodstock, Vermont, which posted a picture of the letter it sent to Nintendo on its Facebook page.
The post reads: "So Nintendo has a new game out called 1-2 Switch and we noticed it includes a cow milking game. We sent them a message inviting them out to our farm to show them how it's REALLY done and to school them at their own game.
"Haven't heard back yet. Maybe they're too afraid of a little challenge..."
Nintendo's social team did get in touch however, commenting on the Facebook post through the official Nintendo page: "Challenge accepted!" A back and forth then started between the two, which we screen-grabbed below.
Nintendo is serious about the challenge too. A representative told Polygon that "they're actually going up there this week". We can only hope they Mario-creator Shigeru Miyamoto and/or Nintendo of America president Reggie Fils-Aime are sent.
In the 1-2 Switch mini-game, one of 28 included in the launch title, players compete to fill up the most glasses with milk from a virtual udder.
They eek the milk out with the Switch's motion-control Joy-Con controllers, mimicking the milking motion while pressing and releasing the two shoulder buttons and feeling the "liquid" being squeezed out thanks to the detailed haptic feedback technology.
It's quite an uncanny, surreal experience, and steeped in innuendo. It topped our list of the best mini-games in 1-2 Switch.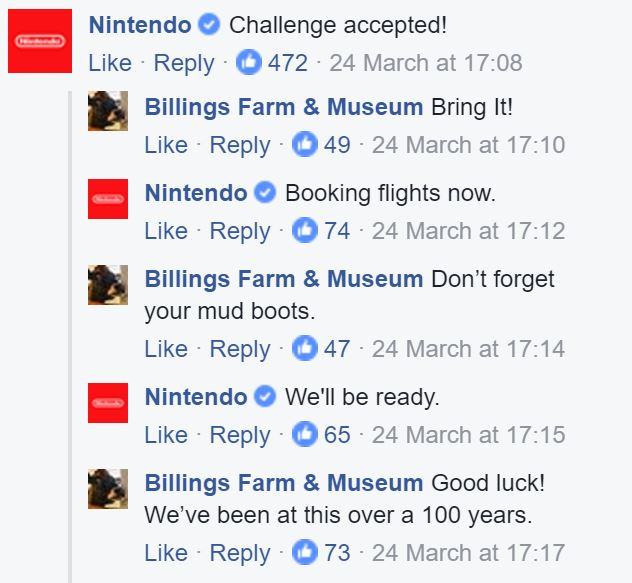 For all the latest video game news follow us on Twitter @IBTGamesUK.