E3 is around the corner, and it comes bearing announcements, surprises and very long summer days spent inside rather than out. The annual trade show is 22 years old this June, and all the major players will be holding their usual press conferences.
With six weeks to go until E3 2017, IBTimes UK has been thinking about what we can expect from the press conferences set to be held by Sony, Microsoft, Nintendo (not strictly a conference), Ubisoft, Bethesda and EA.
You can read our Microsoft predictions here.
We'll start with Sony, the current market leader which over the past few years has gone into E3 as the absolutely must-watch E3 press conference. Sony delivered too.
In 2015 it stunned with the return of The Last Guardian and the announcements of Final Fantasy 7 Remake and Shenmue 3. In 2016 it surprised yet again with the first trailers for the long-awaited God of War sequel, Hideo Kojima's Death Stranding and Insomniac's Spider-Man game.
This year, things will likely be a little different given Sony's past two conferences have focused primarily on games that are still yet to see the light of day. God of War and Spider-Man haven't surfaced since last year's conference so expect gameplay, some story details and at least release windows for them both (we're wager 2018).
Uncharted: The Lost Legacy is a known quantity with an August release window already set, so not much time will be spent on this. Expect a snappy gameplay video or gameplay trailer. If it's not going the way of most games in the series, Gran Turismo Sport will get similar treatment and the announcement of a late 2017 release date.
Days Gone from Bend Studios was a weird presence at last year's conference, appearing twice: early on with a standard announcement trailer, and then to close the show with a slice of gameplay. It'll be back, most likely with story details and a release window/date. Out of this, God of War and Spider-Man, we expect one to at least target a release this year. Days Gone fits the bill best.
So what else is there? Quantic Dreams' Detroit: Become Human has gone quiet of late, so fans will be eager for an update. Knack 2 was announced at last year's PlayStation Experience, so there are sure to be more details about that, and also there are the Crash Bandicoot remasters, set for release in late June.
And what of Media Molecule's Dreams? Things have been very quiet on that front for some time, and were the game to miss E3 serious questions would be raised about the status of the project.
The Last of Us: Part 2 is further off than most of the games here (Summer 2019 is our guess) but fans will be expecting an appearance here and will probably get one. Another trailer, following the surprise PSX reveal, or a short gameplay sequence probably not from the final game, would be our bets.
Then there's Death Stranding, Hideo Kojima's first project as an independent developer. It was unexpectedly announced at last year's show with a bizarre and memorable trailer, and has been a constant source of questioning for all involved in its development.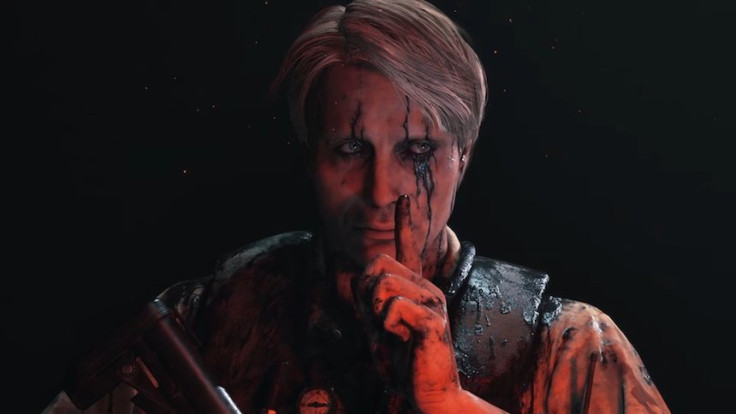 It may well make another appearance, but we don't want it too. The game is clearly a long, LONG way off being finished, so to spare everyone from getting sick of it before that day comes (in 2020 at the earliest, we wager) it'd be best if Kojima kept to himself and got down to work. That, or he'll keep fawning over Mads Mikkelsen.
Remember PlayStation VR? E3 will be the test of whether Sony does. Hopefully it'll show off a few games to give owners a reason to dust off their headsets or do anything other than play through Resident Evil 7 again. If PSVR doesn't get any love, it'll be clear where Sony stands.
When it comes to third parties, Activision and Sony will continue their love-in with Call of Duty: WW2's multiplayer reveal and some more from Destiny 2, including, a firm date for the game's beta. It may even drop on the night of the show itself.
Square Enix may appear with Final Fantasy 7 Remake, but really the publisher should probably keep quiet unless it has anything to announce. Speaking of RPG's Level-5's Ni No Kuni: Revenant Kingdom is also likely to feature in some capacity.
Rockstar Games don't often appear at E3, but when they do it's typically at Sony's conference. With Red Dead Redemption 2 out before the year's end, it may very well make an appearance at Sony's showcase.
So, what about the surprises? There's room for them, but not much comes to mind as to what they could be. Infamous developer Sucker Punch and Until Dawn's Supermassive may have projects ready to debut, but there's one possibility that seems perfectly primed to steal the show: Bloodborne 2.
FromSoftware is a big studio, and it recently released the final expansion for Dark Souls 3. Whatever they're working on now, and will have been working on for sometime, it hasn't been announced. A sequel to 2015's instant classic Bloodborne seems like a no-brainer.
Sony's press conference hasn't yet been formally announced, but is expected to take place on Monday June 12 (possibly the morning of June 13 in the UK and Europe).
For all the latest video game news follow us on Twitter @IBTGamesUK.