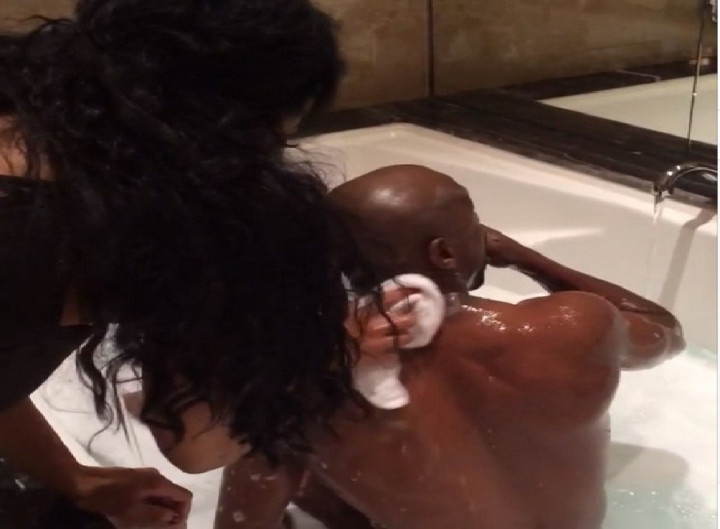 Floyd "Money" Mayweather is known for flaunting his wealth and lavish lifestyle but this time he stretched it too far by posting a racy video on social networking sites.
In a 15-second Instagram video, the ruling WBC welterweight champion allowed his fans to get a glimpse of how fabulous and probably sexy, his life is.
The video shows a female assistant giving a sponge bath to the 37-year-old boxer who is sitting completely naked in his bathtub while brushing his teeth.
Mayweather, who appears to feel proud by getting bathed by a woman, captioned the Instagram video as "This is how I get my day started, everyday."
He also added: "MR. MY LIFE IS THE S**T."
The boxer posted the same video on his Facebook page but many fans criticised his bathing ritual.
Eddie Murphy fans can relate this video to that of Prince Akeem's richly bathing moment in the 1988 hit movie Coming To America.
In the movie's opening scene, Murphy's Akeem was shown getting bathed by two sexy women while one of the bathing assistant says, "The royal penis is clean, your highness."
The undefeated boxing superstar's absurd morning ritual has irked many of his fans who slammed him on Twitter.
I hate Floyd Mayweather...dude had a chick bathing him like he was 9mo old...I'm jealous, dammit.

— Captain Joemerica (@LivingByThe_ISM) August 8, 2014
Floyd Mayweather stunts so hard! That IG vid of the girl bathing him in the tub while he brushing his teeth is too much lol — Trell (@TrellsWorld) August 8, 2014
#FiFa Word Cup #Brazil #FIFA2014 This is An Odd Video Of Somebody Bathing Floyd Mayweather http://t.co/Vuif92Xqkm

— The Luci (@the_luci) August 8, 2014
Floyd Mayweather has women bathing him ! Lol is that what money gets you? — Blaike (@BlaikeAndrew) August 7, 2014
@FloydMayweather got women bathing him like he on coming to America

— Jazz Long (@JazzSoAmazin) August 7, 2014