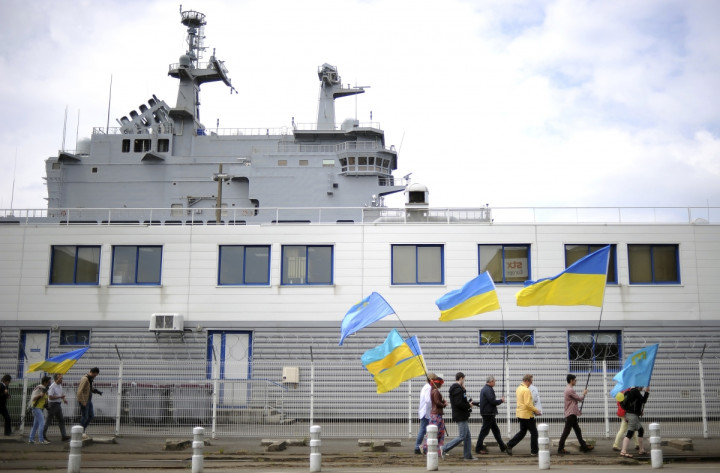 Poland has become the latest Nato member to urge France to scrap a €1.2bn (£970m) contract for the sale of two warships to Russia over tensions in eastern Ukraine.
Poland's foreign ministry Radoslaw Sikorski echoed calls by the US and some European allies that Paris reconsiders delivering the high-tech Mistral helicopter carrier ships to Russia after it annexed Crimea and sabre-rattled with Ukraine on its western border.
"Russian generals have already said what these ships will be used for: to threaten Russia's neighbours in the Black Sea and that means Europe's partners," Sikorski told Le Monde.
"I don't think France would want to be in the position of supplying efficient weapons to an aggressor."
In May a group of US lawmaker called for NATO to buy or lease the ships instead of Russia.
France, which is due to deliver the first of the two 200-meter (656-foot) vessels, the Vladivostok, in November this year, has so far turned down those requests.
"There is no reason (for them) to be concerned," said French foreign ministry spokesman Romain Nadal commenting on Sikorski's words.
The second ship, somewhat ironically named Sevastopol after the Crimean port city, is due to arrive in St. Petersburg in 2015.
On Sunday about 50 protesters chanted "No to Putin's Mistral" and intoned the Ukrainian anthem in front of the STX shipyard in the Atlantic port of Saint-Nazaire, near Nantes, where the last works on the Vladivostok are being made.
Some 400 Russian seamen are expected to arrive at in the city to start training on the warship this month.
The mistral deal was signed in 2011 by then president Nicolas Sarkozy who hailed it as evidence the Cold War was over and has been credited with the creation of some 1,000 jobs in France.