French riot police fire gas canisters in face-off with anti-capitalist groups
Despite big majority at election Emmanuel Macron's staunch neoliberal policies antagonise many voters.
French riot police are out in force following Emmanuel Macron's victory in the presidential elections.
Images on social media show a heavy security presence Paris, Lyon, and Nantes among others in anticipation of any clashes.
The worst reported disturbances were in Paris although no serious incidents have been confirmed. Videos have surfaced of police firing gas canisters and a water cannon was deployed but not used.
The tactics appeared to be used to disperse protesters before any serious violence could erupt.
Hundreds of balaclava-clad and hooded protesters could be seen dispersing as riot police advanced. They are believed to be from anti-fascist and anti-capitalist groups, who would have been likely to protest against the election result regardless of the winner.
Macron, a former private banker, is seen as a staunch neoliberal whose politics are seen as being unlikely to help the poor.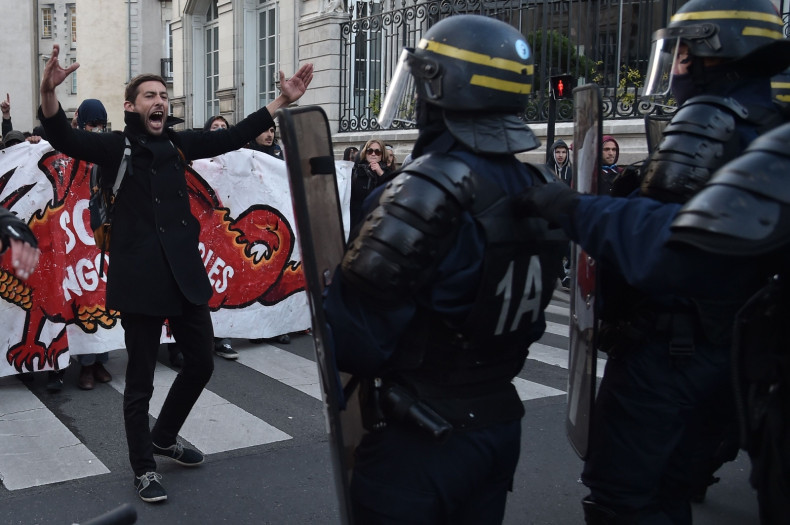 He beat far-right rival Marine Le Pen in the second round of voting although the turnout, at 74%, was the lowest in France for almost 50 years.
Many of those disaffected voters are believed to have taken their frustration on to the streets, with Paris' Ménilmontant neighbourhood experiencing the most volatile demonstrations.
Piers Scholfield, of the BBC, was in the neighbourhood at the time when riot police descended.
"Four to five hundred people started walking from Ménilmontant metro station shouting anti-capitalist and anti-fascist chants," he said.
"Soon after turning into side streets we heard a couple of big bangs – presumably from the protesters. They were quickly met by police, who fired teargas.
"Following a few minutes of general confusion and copious teargas, the police blocked all exit routes to the area.
"At time of writing the situation is calm; there are perhaps 200 protesters blocked into small side streets, surrounded by hundreds of riot police. The area is filled with security forces – we believe arrests are taking place. I'm not aware of any injuries."