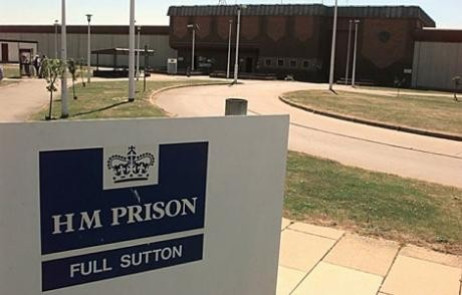 Counter-terrorism police are investigating a siege at a maximum security jail in which a prison guard was held hostage and badly beaten by three prisoners.
The Prison Service confirmed that three prisoners were involved in the stand-off at Full Sutton jail in Yorkshire. It was reported to have lasted for four hours.
A second female guard is also believed to have been injured as wardens attempted to intervene. The Prison Service said the warden's injuries were not thought to be life-threatening.
The Prison Officer's Association (POA) said it was aware of the "hostage incident" and that the North East Counter Terrorism Unit was investigating.
The incident is reported to have occurred after a prison imam called for inmates to pray for Lee Rigby, the soldier who is alleged to have been killed by Islamic terrorists in Woolwich.
An email sent to all prison staff said the hostage was chosen by the three Muslim prisoners because of his links to the armed forces.
The Daily Telegraph reported that the email said: "Three Muslim prisoners took an officer hostage in an office. Their demands indicated they supported radical Islamist extremism.
"The officer taken was an ex-serviceman and, throughout the incident, threats were made to kill him.
"All staff are reminded to remain vigilant to the increased risk of potential attacks on prison officers inspired by these and last Wednesday's events."
Steve Gillan, the POA's general secretary, said: "Until the full facts of the incident are known we do not wish to comment further for fear of compromising any police investigation.
"We can confirm that officers sustained injuries and had it not been for the professionalism of prison officers dealing with this violent incident the outcome could have been worse."
The Ministry of Justice also confirmed that Parviz Khan - who was linked to the attack by some national newspapers - was not a prisoner at the jail and was not involved in the incident.
Khan is serving life a sentence for plotting to behead a British soldier.
Full Sutton is a maximum security prison which holds some of the most dangerous inmates in the country.