Samsung's highly anticipated next-generation flagship phone, the Galaxy S5, returns to the spotlight, as a new teaser image appears for the handset on O2, the German carrier website.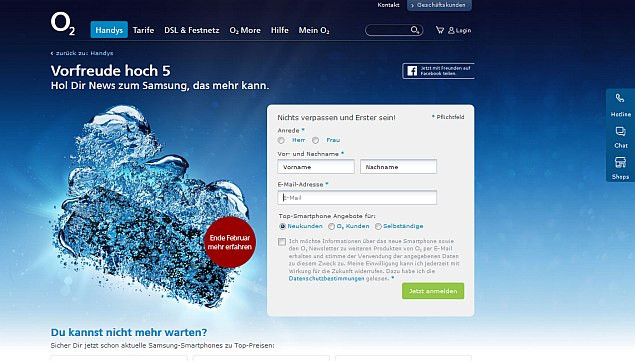 The German carrier claims it will be among the first to debut the Galaxy S5 when the handset releases by the end of February. The official teaser on the O2 site reads: "Ende Februar mehr erfahren", which means "The end of February to learn more."
As NDTV Gadgets reports, potential buyers may register online for further updates on the availability of the handset with the carrier. The teaser spills some more titbits about the handset through message hints such as "Get news about Samsung that can do more" and "Anticipation of 5".
While the former message hints at accessing news updates for the Galaxy S5, the latter points to the Samsung unPacked 5 event, where the Galaxy S5 is expected to be unveiled on 24 February at the Mobile World Congress (MWC) 2014.
Besides, the O2 teaser page does not reveal anything specific about the Galaxy S5, except for showing some device submerged in water. This could actually suggest that Samsung might be offering dust and water-proof capabilities along the lines of Xperia Z and Xperia Z1 in its upcoming flagship phone.