Gaza Strip: Who are the 61 Israel Defence Forces Soldiers Killed in Action?
As the fourth week of fighting looms in the siege of Gaza, or Operation Protective Edge as it is known by Israel, the bitter war between Hamas and the Israel Defence Forces is inflicting casualties on both sides.
There have been more than 1,200 Palestinian deaths, the majority believed to be civilians, but Israel is also burying its dead daily. Sixty-one soldiers have been killed in action against Hamas militants. Hundreds more have been wounded in fighting in the streets of Gaza and around the tunnel networks that have become Hamas's latest weapon against the better-armed Israeli enemy.
The Israeli military is a "people's army", with all men and women expected to serve in defence of their country - though Arab Israelis are not conscripted. Despite the mounting death toll, Israeli support for the military campaign is widespread and amid the wail of the air raid siren from incoming Hamas rockets, the commitment of its fighting forces to deal a fatal blow to Hamas shows no sign of flagging.
With a further 16,000 reservists called up, most Israelis are likely to know someone who is now at the frontline.
These are the faces of the young men, from one side, who have lost their lives. They represent a snapshot of contemporary Israeli society. Their average age was 22.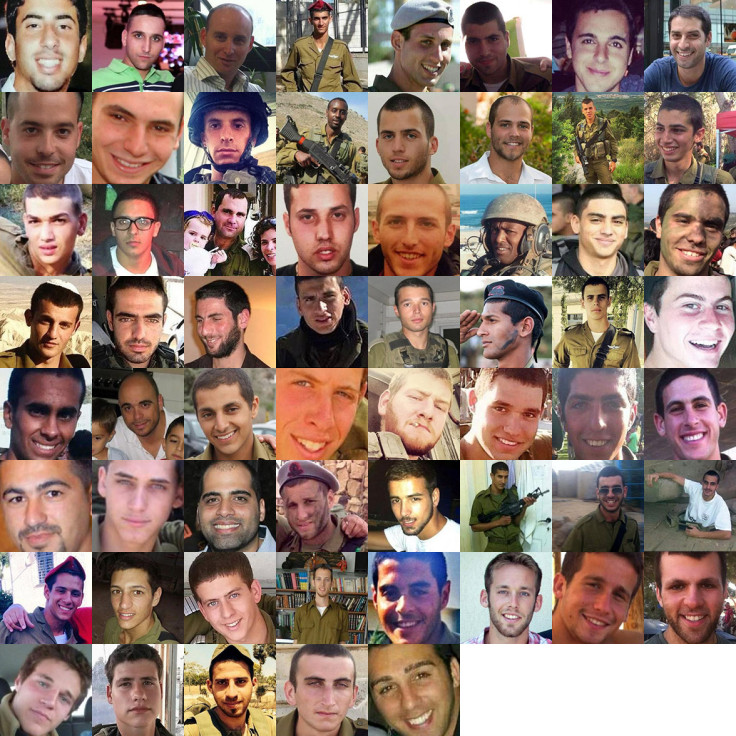 Top row, left to right:
St.-Sgt. Eitan Barak, 20, of Herzliya; Sgt. Adar Barsano, 20, from Nahariya; Maj.(res.) Amotz Greenberg, 45, of Hod Hasharon; St. Sgt. Bnaya Rubel, 20, from Holon;
2nd-Lt. Bar Rahav, 21, from Ramat Yishai; St. Sgt. Oz Mendelovich, 21, of Atzmon in northern Israel; Sgt. Nissim Sean Carmeli, 21, a lone soldier from South Padre, Texas who lived in Ra'anana; Maj. Tzafrir Bar-Or, 32, from Acre.
Second row, left to right:
Capt. Tsvi Kaplan, 28, of Kibbutz Merav; St.-Sgt. Gilad Rozenthal Yacoby, 21, of Kiryat Ono; Sgt. Max Steinberg, 24, a lone soldier from Woodland Hills, California who lived in Beersheba; St. Sgt. Moshe Malko, 20, of Jerusalem; St.-Sgt. Oron Shaul, 21, from Poriyah; Stf.-Sgt. Oren Simcha Noah, 22, of Hoshaya;
Sgt. Ben Oanounou, 19, from Ashdod; Sgt. Shon Mondshine, 19, of Tel Aviv.
Third row, left to right:
Stf.-Sgt. Daniel Pomerantz, 20, of Kfar Azar; Stf.-Sgt. Shachar Tase, 20, from Pardesiya; Lt.-Col. Dolev Keidar, 38, of Modi'in; Sgt. Nadav Goldmacher, 23, of Beersheba; Sec.-Lt. Yuval Haiman, 21, of Efrat; Chief Warrant Officer Bayhesain Kshaun, 39, of Netivot; St.-Sgt. Tal Yifrah, 21, from Rishon Lezion;
St.-Sgt. Yuval Dagan, 22, from Kfar Saba.
Fourth row, left to right:
St.-Sgt. Jordan Bensemhoun, 22, from Ashkelon; St.-Sgt. Oded Ben Sira, 22, from Nir Etzion; NCO Ohad Shemesh, 27, from Beit Elazari; St.-Sgt. Evyatar Turgeman, 20, from Beit She'an; Captain Dmitri Levitas, 26, from Jerusalem and Geshur; Captain Natan Cohen, 23, from Modi'in; St.-Sgt. Shahar Dauber, 20, from Kibbutz Ginegar; St.-Sgt. Li Mat, 19, from Eilay.

Fifth row, left to right:
Lt. Paz Eliyahu, 22, from Kibbutz Evron; NCO Master Sgt. (res.) Yair Ashkenazy, 36, from Rehovot; St.-Sgt. Guy Levy, 21, from Kfar Vradim; St.-Sgt. Amit Yaori, 20, from Jerusalem; St.-Sgt. Guy Boyland, 21, from Ginosar; St.-Sgt. Gal Bason, 21, from Holon; St.-Sgt. Avraham Grintzvaig, 21, from Petah Tikva; Lt. Roy Peles, 21, from Tel Aviv.

Sixth row, left to right:
Chief Warrant Officer Rami Kahlon, 39; Captain Liad Lavi, an officer in an infantry unit; NCO Sgt. First Class Barak Refael Degorker, 27, from Gan Yane;
St.-Sgt. Moshe Davino, 20, of Jerusalem; Sgt. First Class Adi Briga, 23, of Beit Shikma; St.Sgt. Eliav Eliyahu Haim Kahlon, 22, of Safed; Corporal Meidan Maymon Biton, 20, of Netivot; Corporal Niran Cohen, 20, of Tiberias.
Seventh row, left to right:
Sgt. Nadav Raimond, 19, from Shadmot Dvora; Sergeant Dor Deri, 18; Sergeant Sagi Erez, 19, of Kiryat Ata; Sergeant Barkai Yishai Shor, 21, of Jerusalem; Sergeant Daniel Kedmi, 18, of Tzofim; St.-Sgt. Matan Gotlib, 21, of Rishon Lezion; St.-Sgt. Omer Hay, 21, of Savyon; St.-Sgt. Guy Algranati, 20, of Tel Aviv.

Eighth row, left to right:
Capt. Omri Tal, 22, from Yehud, St.-Sgt. Shay Kushnir, 20, of Kiryat Motzkin, St.-Sgt. Noam Rosenthal, 20, from Meitar, Sgt 1st Class (res.) Daniel Marash, 22, of Rishon Lezion, Capt. (res.) Liran Adir (Edry), 31, of Ezuz.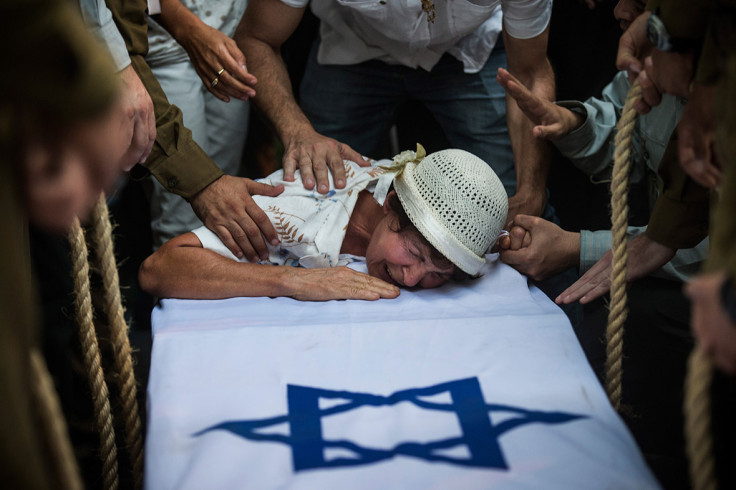 © Copyright IBTimes 2023. All rights reserved.