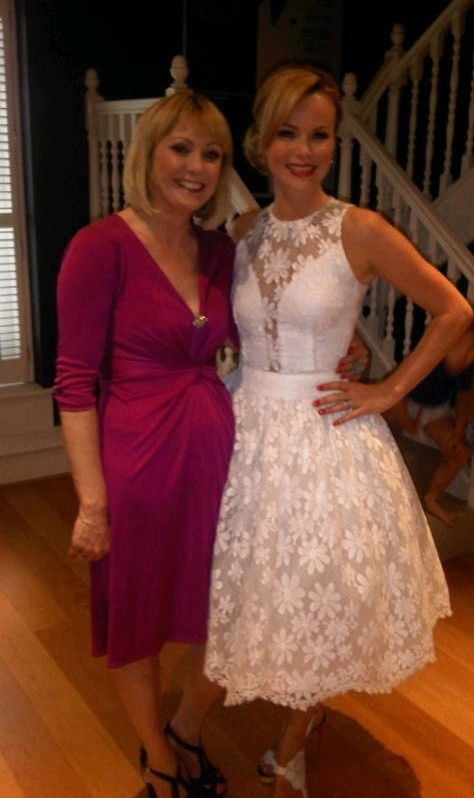 The 2012 Glamour Women of the Year Awards were announced at Mayfair and all the celebrities came suitably attired in all their stylish best. Singer Kylie Minogue won the award for Most Outstanding Contribution, while fellow musician Jessie J won Best Solo Artist and Best Breakthrough Performance was awarded to Lily Collins.
Meanwhile, the star of television show Glee, Lea Michele, sizzled in a long dark blue strapless gown with a mermaid tail and, according to the Daily Mail, actress Jessica Alba wore a long black gown with lace and chiffon around the neckline and shoulders... her make-up was immaculate and her hair pinned on top of her head.
The talk of the evening though was the big white feather pattern worn by X Factor judge Kelly Rowland. The gown was a pleasant surprise and Rowland definitely knew how to show its best side.
Amanda Holden was dressed in a white Azagury covered with flowery white lace. Kelly Brooks also opted for an Azagury.
After her fine display at the 2012 Cannes festival, Desperate Housewives star Eva Longoria came in an orange dress designed by Victoria Beckham. Modern Family's Sofia Vergara wore a strapless red short dress and actress Naomi Watts came in a black and beige net dress.
Minogue wore a glittering gold gown with a huge bronze ring and looked gorgeous and while Holly Willoughby wore a sexy black cocktail dress, Fearne Cotton came dressed in a pale blue dress embellished with sequins.
"It took me about an hour to get ready. I'm really looking forward to just celebrating women and seeing people here that I haven' seen very much because I'm always working, it's nice to just hang out with some of these glamorous people," Jessica Alba told the Times Live.
Sofia Vergara was named Comedy Actress of the Year.
"This is bloody amazing! I'm so happy to be here, Glamour, thank you! To be part of this with all these glamorous people is amazing. Thank you so much, I hope to be back again," an excited Vergara said.
The full list of winners is given below:
Outstanding Contribution - Kylie Minogue
Icon - Dionne Warwick
Solo Artist - Jessie J
TV Personality - Kelly Rowland
Best Presenter - Holly Willoughby
Theatre Actress - Amanda Holden
UK TV Actress - Jessica Findlay-Brown
US TV Actress - Lea Michele
Editor's Special - Michelle Dockery
Best Band - Florence and the Machine
Breakthrough - Lily Collins
Inspiration - Eva Longoria
Entrepreneur - Jessica Alba
Film Actress - Viola Davis
Sporting Achievement - Hayley Turner
Man of the Year - Tom Hiddleston
Radio Presenter - Fearne Cotton
Accessories Designer - Charlotte Olympia Dellal
Comedy Actress - Sophia Vergara
Writer of the Year - Caitlin Moran
To see more, click here.