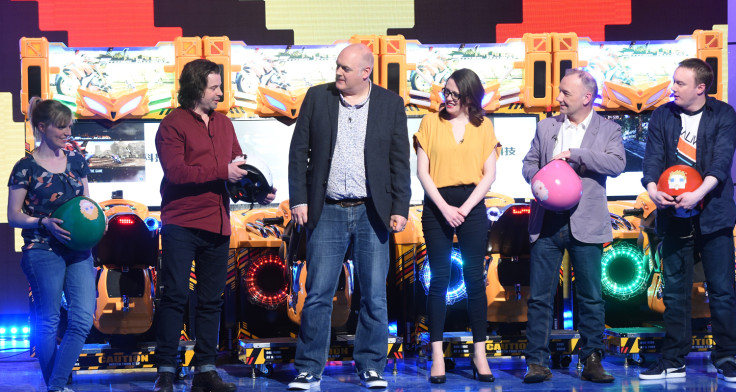 Television and video games has had a mixed history. In the 90s we watched Sir Patrick Moore dressed as a cyberpunk Wizard of Oz in Gamesmaster while Dominik Diamond pitted contestants against each other. But for the last 20 years, the mediums have rarely cross paths outside of news coverage.
Step forward TV channel Dave, with Dara Ó Briain's Go 8 Bit, a show in which celebrities compete with comedians at various video games in front of a studio audience, adapted from the successful live show by Steve McNeill and Sam Pamphilion. I spoke with Steve and Sam, who also act as team captains, and journalist Ellie Gibson about the show.
IBTimes UK: How did the show come about and how did you get involved, Ellie?
Steve McNeil: We had three years doing sketch shows up in Edinburgh, which did very well, and then in 2013, we were supposed to be going up again but it got to the deadline and we hadn't written anything. So rather than not doing anything we decided to go. If you're a comedian, Edinburgh is a really long month, it can be quite a slog. So we thought take my Nintendo Wii up with us, invite comedians along, fill the backstage area with beer, get them all drunk and then get them to give each other grief while they play, and hopefully it'd be funny enough to charge some drunk Scottish people to watch it. And then somehow that became more successful than anything else we've done.
Sam Pamphilon: Yeah, it definitely wasn't supposed to be what it became. We took it up for an excuse, really – we didn't have a show and we did that so we could still be involved in Edinburgh and not feel like we let ourselves down and to have fun. Then it became more popular than all the other things we've worked really hard at.
Ellie Gibson: I've been a video game journalist for a long, long time, and in 2013 I started doing stand-up comedy and heard about this show that combined video games and comedy. I went along and thought it was brilliant. So I went up to Steve after the show and said it was great. I worked for Eurogamer at the time and then we ended up doing things together, like putting it on at EGX. When it came to doing the TV show, they decided they needed a games expert and they didn't want it to be too laddie either, so I auditioned and that was that.
So what about your gaming history, what got you all in to video games?
EG: I think it was around my friend's house, they had a Spectrum and Jet Set Willy, and that's the first game I remember playing. And eventually after lots of nagging my parents brought me a second-hand Amstrad, which had a built-in tape deck. So growing up it was mainly playing at other girl's houses. Then PlayStation came along and I was at university studying English so I had nothing to do and I spent a lot of time playing Tomb Raider, Crash Bandicoot and Wipeout.
SM: Go 8 Bit is the embodiment of what 10-year-old Steve wishes would have happened, rather than being in the bedroom alone playing Mario Kart. So growing up was playing SNES alone or with my brother. A lot of people say there was always a rivalry that you had to be Sega or Nintendo, but I don't remember it like it. When I was at school, I had a Nintendo, my mate had a Mega Drive and what that meant was that we could take turns to go around each other's houses and play on everything.
SP: My gaming history is like so many other people's gaming history, looking though all the cartridges for Master System and Nintendo, looking at the graphics on the back and be like "OH MY GOD. Like the Master System graphics are SO MUCH BETTER than Nintendo." My favourite game on that was Wonderboy 3. Street Fighter 2 came out on the Super Nintendo so I traded my Mega Drive in and then that was my last console as a young-un. I tried again on the PlayStation 4 but now I've got kids so I don't have time. It kind of left me and I hadn't realised what gaming had become.
You know it's like when you go out with someone and you break up and they go off and they become amazing. You've broken their heart and you've been really shitty to them and you realise "oh my god, you're everything I want" but you've blown it and that's how I am with games. I let them go too soon and feel I'll never get them back.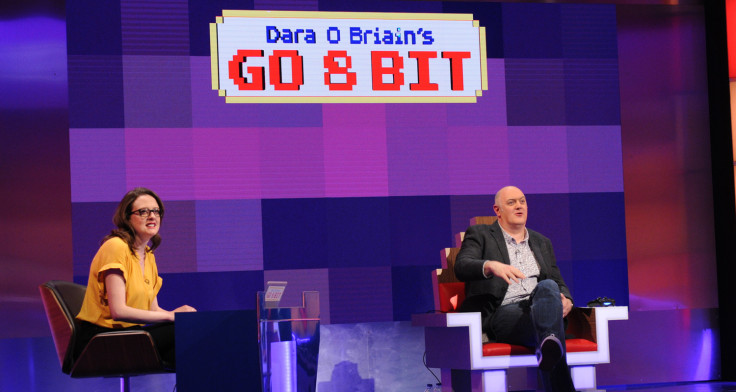 What have been your favourite moments on the show?
EG: There were just so many brilliant moments. It was a great moment to see Susan Calman play Tetris on David James's chest, I mean, that's a dream we've all had, isn't it? But I think my favourite moments are the ones where the audience gets involved, or playing the massively multiplayer pong with the audience playing as the bat. There's something just so funny and human about all these people getting in to this incredibly simplistic and old and basic rubbish game and taking it very seriously.
SM: David James is an amazing gamer. He is one of those people who completed Tetris. Rachel Riley is surprisingly good at a thing I can't say yet, Bob Mortimer oddly only likes violent games, and there's a surprise person that turns up in the Russell Howard/Rachel Riley one that is interesting.
So what makes the show so fun to watch?
SP: It was competitive but not aggressive. People said to us before "people aren't interested in video games". Well most people aren't interested in the novels of James Joyce. But you'll watch someone you've never met answer questions on James Joyce on Mastermind because you want to see if they can succeed, and there's a tension with that.
OK, so with all four of you, Dara included, if I sat you down in front of Mario Kart, who would win?
EG: If the answer is not me then the answer is incorrect. I've played games professionally for 15 years so ask yourself, logically, who's best.
SM: Dara never plays multiplayer games, he always plays solo because he's scared of the internet. So he wouldn't win.
SP: Nope. He's out.
SM: Sam hasn't played since the 90s, so it'll come down to me and Ellie. I think it's got to be me, because she's sat there talking about them but I'm doing all the work, sounds really arrogant but yeah.
EG: Well that's some pretty Steve-style trash talk. I'll simply say this to you. In 1996 when I was at Sheffield University, I was the Sorby Halls of Residence Mario Kart champion. You can draw your own conclusion.
SP: Ellie would win 100%, Steve knows a lot about games, incredible knowledge. It doesn't make him good at them.
Go 8 Bit starts tonight (5 September 2016) on Dave at 10pm BST, with guests David James and Susan Calman. Alternatively, you can watch it online right now.
For all the latest video game news follow us on Twitter @IBTGamesUK