The Apple Watch will not be an accessory for your iPhone - but your iPhone will be an accessory for your Apple Watch, claims technology writer John Gruber, who expects the new wearable to cost upwards of $10,000 (£6,500/€8,800).
Due to go on sale in April, the Apple Watch will start at $349 for the basic Sport model with a rubber strap, but beyond that no one knows how much the stainless steel and 18-karat gold Edition models will cost. A debate between technology and wristwatch experts is under way to determine how far into uncharted water Apple is willing to sail.
First, Stephen Foskett of Grail Watch chimed in, suggesting (although using self-proclaimed "back of envelope" maths) the gold Apple Watch Edition will cost at least $10,000, based on the materials used.
Foskett points to the huge gap in prices between stainless steel and gold versions of Swiss watches of a similar size and shape to the Apple Watch, noting how the Cartier Tank - a watch praised by Apple design chief Jony Ive - costs $7,000 in steel and $22,000 in pink gold. The Jaeger-LeCoultre Reverso Squadra Hometime, slightly larger than the 42mm Apple Watch, costs $8,550 in steel and $23,000 in gold - and a gold strap is a further $20,000.
Apple must also price the Watch so it is protected against the volatility of gold. Foskett said: "[Watchmakers] can't price near the commodity price because they have to set a price and stick to it all year long. So they generally price somewhat higher than they would, even taking into consideration all the rest of the materials, labour, distribution and profit in a watch."
Will the Apple Watch be gold plated to save costs?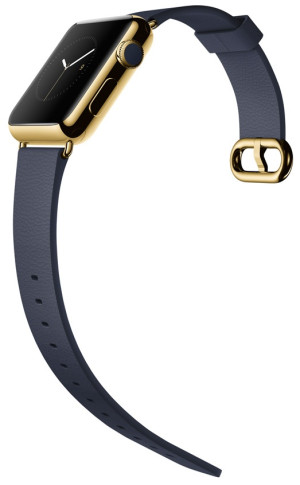 Foskett says not. Although Apple doesn't describe the Watch Edition as being "solid gold," it does say it is "crafted from 18-karat gold," and nowhere is the material described as plated or gold filled.
Entering the jewellery market means complying with new regulation, Foskett explains. "There are laws covering descriptions of metal content for jewelry and Apple cannot break these any more than Tiffany could."
Add to this Apple's claims of producing the Watch from gold twice as hard as standard gold, and it is clear that the company will not be scrimping on materials. Foskett believes $9,999 for the 42mm model and $7,999 for the 38mm version of the gold Watch Edition could well be possible.
Days later, Apple commentator John Gruber blogged to say he also thinks the price will be $10,000. "The more I think about it, and the more I learn about the watch industry, the world of luxury goods, and the booming upper class of China, the better I feel about that bet. I don't think I was wrong to place a friendly late night bar bet on a $9,999 starting price [for the gold model]."
Gold straps
Gruber says a "starting price" because he expects Apple to announce a new gold band when the Watch finally gets a price and release date - and for this he suspects the company will charge an additional $10,000.
Looking at how Rolex charges a much higher premium for its gold models over steel - and for watches with identical movements - Gruber says the Apple Watch Edition "is not a tech product, so don't try to price it like one... Apple's ambitions in this arena, I am convinced, are almost boundless."
Buying the Watch Edition will be unlike buying any other product in Apple's history. Reports claim the company will store the watches in safes, and that it is even considering completely separate boutique stores to sell them.
Apple is expected to reveal the Watch's pricing structure and release date at a media event before the end of April 2014.