Good timing! Deliveroo will now deliver you beer and wine within 20 minutes
Restaurant delivery startup expands into booze-by-bike delivery across the UK.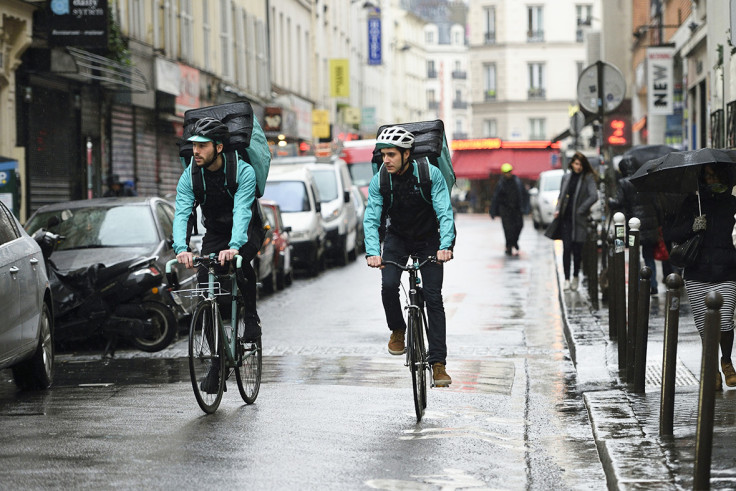 Just in time for summer, food delivery start-up Deliveroo has announced it will expand its service to deliver alcoholic drinks, with booze via bike arriving within 20 minutes of ordering.
The danger of running out of beer or prosecco at a picnic in the park will be no more as the UK company has added Majestic Wines and trendy beer maker BrewDog to its offering after an unsurprisingly strong demand from customers.
For those who haven't used the service, Deliveroo is essentially a restaurant delivery company that works by partnering with eateries that don't always offer a take-out option. For instance, the likes of Jamie's Italian, Wagamama and Gourmet Burger Kitchen, which are places you would have to visit to eat, are just some of the selection available to be dropped to you instead. The London-based service is predominantly located in the capital but is also found in 30 cities across the country, as well as Asia, Australia and the Middle East.
The company, which started back in 2013, had a successful trial of alcoholic drinks delivery in early 2016 and is now ready to be rolled out across the land. The service will apparently work in the same way as food orders with eight Majestic Wines stores across London ready to be delivered from, while there will be 20 BrewDog locations across the country.
Majestic Wines locations: St John's Wood, Guildford, Covent Garden, Battersea, Hove, Islington, Mayfair and Holland Park.
BrewDog locations: Kings Cross, Shepard's Bush, Shoreditch, Clapham Soho, Clerkenwell, Camden, Cardiff, Brighton, Bristol Centre, Sheffield City Centre, Manchester Central, Birmingham City Centre, Newcastle City Centre, Norwich, Aberdeen, Glasgow's Argyle Street, Old Town in Edinburgh and Liverpool City Centre
Smaller and independent merchants will also be included in the offering like Lea and Sandeman, Honest Brew, Mother Kellys and Vagabond Wines. Also in the mix are standalone companies Albion Wine Shippers, Fine Cocktails, Caps and Taps, White Lyan and Jeroboams.
Deliveroo has claimed it will aim to fulfil a drinks delivery within 20 minutes of ordering, which isn't too bad for a thirsty sun-soaked Brit. Apart from the obvious convenience of not having to take a step to buy booze, it also might mean nobody will try driving to get more. If this 'Uber of booze' can come to you then it may help prevent people taking those foolish drinks runs when parties run dry.
One concern is the potential for prospecting under-age users attempting to use the service to get their hands on alcohol. However, Deliveroo told IBTimes UK that along with introducing alerts on order pages for customers to be over 18-years old, it has brought in a training program for its riders to ID people who may look under 25 and are also trained in 'Challenge 25' a strategy that provides guidelines on alcohol sales to tackle underage drinking.
The food delivery service market is hotting up in the UK with JustEat, Hungry House, Amazon Fresh and also Uber Eats announcing it will also get into the game. This drinks delivery might be just the thing need to wash it all down. Chin, chin.
© Copyright IBTimes 2023. All rights reserved.