What was announced:
Android Wear software and hardware updates




Android 5.0 (L) details




Google Fit




Android TV update




And much, much more....
7.41pm: And that's a wrap! It's goodbye from Google and it's goodbye from us - no mention of Google Glass but still plenty for consumers and developers to sink their teeth into. Just watch out for those killer robots...

Thanks for sticking with us, for more indepth analysis on all we've seen today, go to ibtimes.co.uk/technology.
7.39pm: Sundar is back. He announces that all audience members are going to get a free smartwatch and a piece of cardboard (go on Twitter and follow #cardboard to find out more). Nothing gets a crowd excited like freebies, and the hall erupts into the biggest cheer of the keynote.

7.34pm: Google Fit has finally been announced. As expected, Google Fit collects and aggregates data from health apps and fitness trackers. Nike and Adidas have already joined as partners in the programme.

7.30pm: Ellie announces that Google has "partnered" with Appurify. She probably means "taken over". That's good news for app developers, apparently.

7.28pm: Ellie Powers is now on stage to talk about Google Play and cross-platform developer tools. She's wearing an LG smartwatch for anyone who's interested.

7.21pm: Eric Schmidt is here! A confused audience take a bit of time to realize that it's not THE Eric Schmidt. Things must get mighty confusing around Google HQ. He's talking about Cloud Dataflow, which can create data pipelines for "arbitrarily large datasets." hmmmm.

7.15pm: Anyone who isn't a developer is going to find this part very tedious. Lots of lines of code and dashboard controls on the screen.

7.09pm: Another protestor! This one interrupts to shout something about "killer robots" and "totalitarian machines that kill people". He paid $900 to warn people about these machines, maybe we should take note?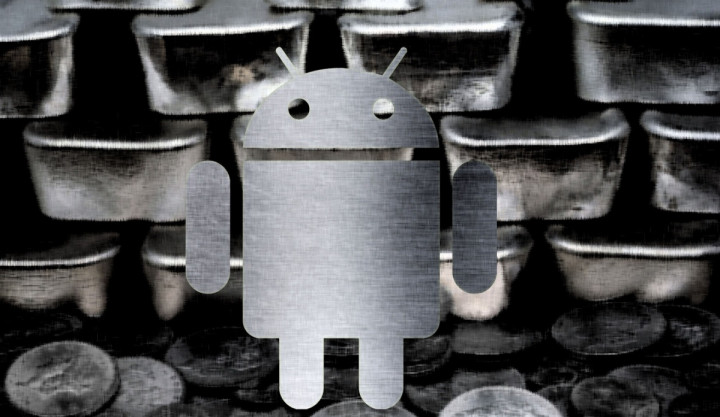 7.06pm: A promo video now, seemingly aimed at encouraging developers to do something "inspirational". It tells the story of school kids who developed an app to help their blind friend get around.

7.01pm: A few stats for you numberphiles: Google Drive has more than 190m 30-day active users, it has grown by more than 85% in the past year and 58% of Fortune 500 companies use it.

6.58pm: And now he flits briefly to Google docs. Some new editing features but nothing ground-breaking. It feels like the main bulk of announcements have been made.

6.55pm: Back to Android L. There's no more need for two phones, Sundar says, Android L allows "corporate applications and personal applications to live together on the same device."

6.52pm: Creating a "seamless" experience between your phone and computer. One example of this is your Chromebook unlocking as soon as your phone is in the vicinity. The laptop will also give you notfications when your phone is running low on battery.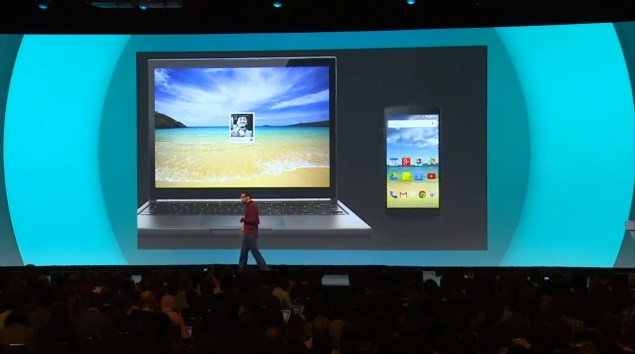 6.49pm: Sundar has rejoined us, he's talking about Chromebooks.

6.46pm: "Backdrop brings your TV to life, evem when you're not using it."

6.45pm: Google Cast ambient experience, known as "Back Drop" looks like an interesting feature. This turns your TV into "the largest picture frame in the house" for when the TV is no longer switched on. That really depends on how big your TV is, Chandra.

6.44pm: Another product coming "later this year".

6.43pm: Chandra grins that you no longer need to be on the same WiFi network to control Chromecast anymore. It can be controlled through the Cloud. Scattered applause.
6.39pm: Rishi Chandra is now in the house, he's here to talk about Chromecast. "We've outsold all other streaming devices combined at major retailer channels like Best Buy."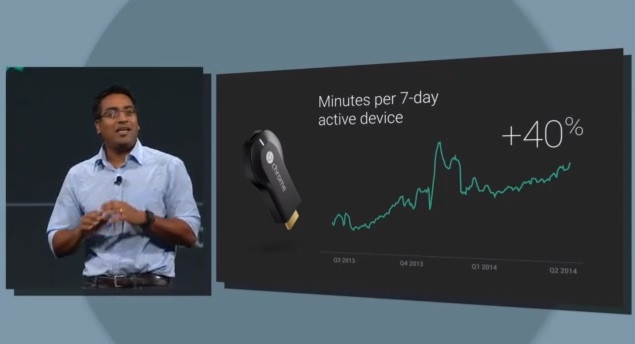 6.37pm: Smart TV's from TPVision, Sharp and Sony will all be coming in the autumn.

6.36pm: You can use Android TV just like a Chromecast and is "ideal for multiple device types" - everything from set-top boxes to games consoles.

6.33pm: The Android Wear watch also works as a remote for the TV. This is beginning to look like a pretty handy piece of equipment. Oh wait, the live demo failed. Perhaps the universe isn't ready yet for a TV remote permanently strapped to your arm.

6.30pm: More voice recognition. Voice search tailored for the TV allows for requests like "Oscar nominated movies from 2002".

6.28pm: Android Auto will be rolling out later this year. Burke is back and he's talking about Android TV.

6.25pm: Messages can be sent using commands like 'sure'. Google Now is getting casual.

6.20pm: Someone called Andy is pretending to drive while demonstrating how Android Auto can give directions through Google Maps or play a user's favourite songs through the music app.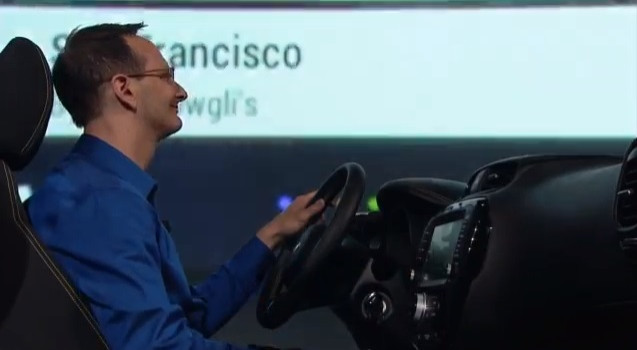 6.18pm: Something called Android Auto now, a completely voice-automated system that hopes to prevent accidents caused by people fiddling with their devices while driving. And we have a fake dashboard set up on stage to show us what it can do.

6.15pm: Samsung Gear Live is here and ready to wear today. That makes up the trio of Android Wear devices.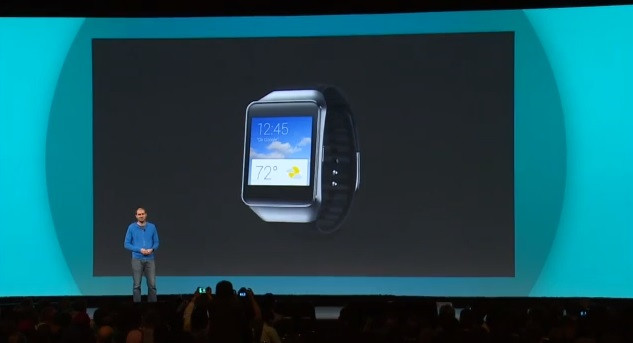 6.11pm: He's switched to the Moto 360 smartwatch now. Checking a recipe is easier on your watch than your smartwatch, apparently. Plus it comes with a timer to notify you when your dinner is done. All the devices are waterproof, so getting a splash of sauce on the screen is no problem.
6.09pm: Setting alarms, checking flight details and setting up 'do not disturbs', all with voice recognition integration.

6.05pm: Most of the controls on the G Watch involve a LOT of swiping. Up, up, down, down, left, right, left, right (B, A, Start).

6.02pm: Singleton is showing off the LG G Watch. People check their phones 125 times a day, something that this smartwatch aims to rectify. Instead you'll be staring at your wrist 125 times a day.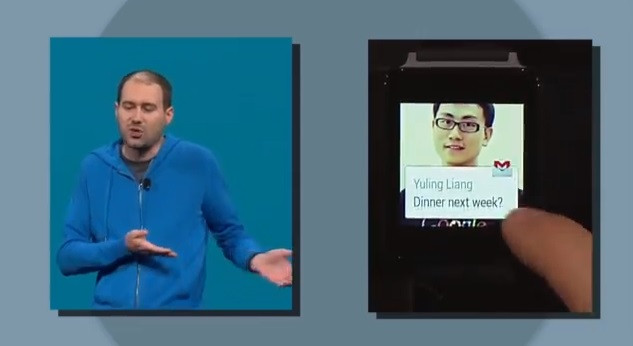 6.01pm: David Singleton, dierctor of Android engineering now has his turn in the spotlight. He's here to talk about Android Wear.

5.59pm: He's talking malware now.According to Sundar, less than 0.5% of Android users ever have problems with malware. That's a bold claim.
5.57pm: Sundar is making digs at Apple now, proclaiming that custom keyboards and widgets were available for Android four to five years ago. Cheers.
5.56pm: Sundar is back!
5.55pm: Burke introduces a new battery saving feature, just as the protestor is evicted. ""Enough battery life for a long protest," Burke quips.

5.52pm: And we have a protestor in the hall! We can't quite here what she's shouting over Burke, but CNet have a photo of the interloper: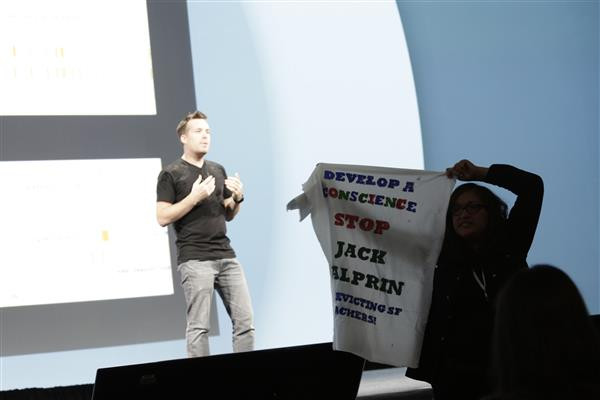 5.50pm: "Quite literally PC entertainment graphics in your pocket," Burke says. A demo for Unreal Engine 4 seems to corroborate this.
5.48pm: The Android extension pack is "fully 64-bit compatible" - Huzzah!
5.45pm: We're back with Burke now, who's talking performance improvement. Some nice bar charts showing some positive improvements (if you understand the performance parameters...)

5.43pm: App indexing and a new API in Google Play services are also now available to developers.
5.40pm: It is now easier to move between the web and apps thanks to a redesigned interface.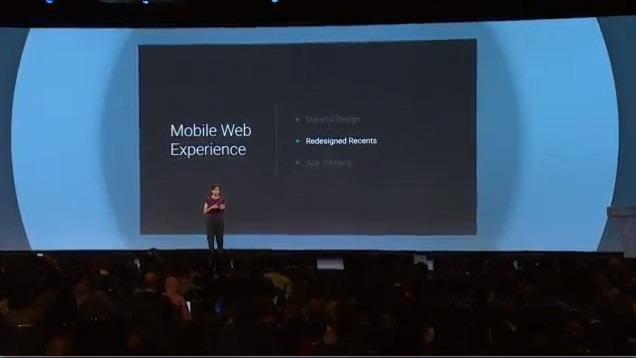 5.39pm: Avni Shah from the Chrome team is now onstage to talk about the mobile web. "Fast, fluid, continuous animation at 60 fps. Something that "just wasn't possible one year ago".

5.37pm: Another user experience improvement is a two-factor authentification that utilises a bluetooth watch to unlock the phone.

5.36pm: Burke's now playing Piano Tiles, his favourite game ever apparently. He's doing this to show how he can dismiss notifications and calls without leaving the game. Which he isn't very good at judging by his score.

5.34pm: A ripple-touch effect "eminates" from the buttons. It appears to be working very cleanly and smoothly, though it might not look so pretty on older phones. Burke appears to be using a Nexus 5.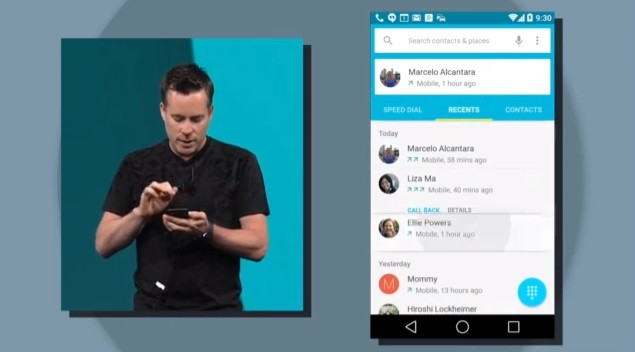 5.31pm: Dave Burke, director of engineering for Android has now joined us to tell us about user experience and interface.

5.28pm: "Rich, fluid material design to every screen," to build a consistent experience. The first drafts of the L preview are available to developers from today.
5.25pm: Duarte is talking about 'L preview', specifically material design. Audience members might be more interested to here about his facial hair design.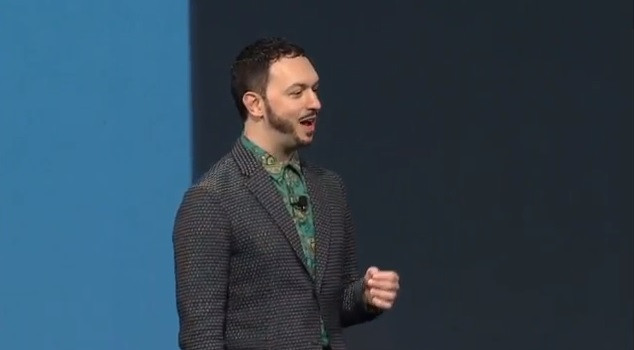 5.23pm: Matias Duarte, vice president of design for Google, is now on the stage.

5.21pm: First reference to Android 5.0 Lollipop, referred to mysteriously as 'L'. "One of the most comprehensive releases we have ever done," Pichai teases.

5.18pm: Android app installs are also up, increasing by 236% in 2014.

5.15pm: Android tablet shipments have grown from 39% to 62% in the last three years. "We view this as a leading indicator of where useage will be," Pichai says. You don't say...

5.12pm: Global smartphone shipments is first on the agenda. Apparently there's over 1 billion 30-day active users. Big whoops.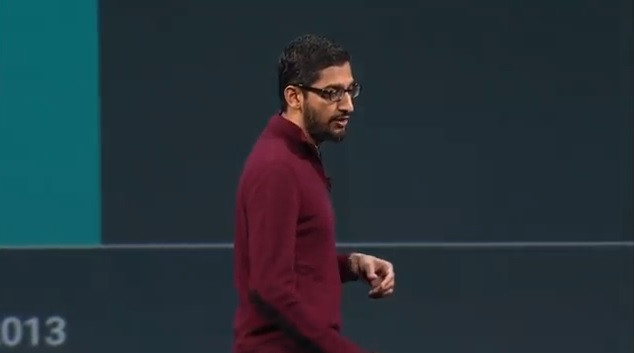 5.10pm: Sundar Pichai arrives on stage to a big cheer. He kicks things off by welcoming people from all over the world watching the Google I/O livestream.
5.08pm: And we're off! We're underway with one of the most elaborate mechanical introduction mechanisms to start an intro video.
5.06pm: A quick reminder of where you can catch the livestream.
5.05pm: According to the peculiar clock contraption, we're just under three minutes away from actually starting.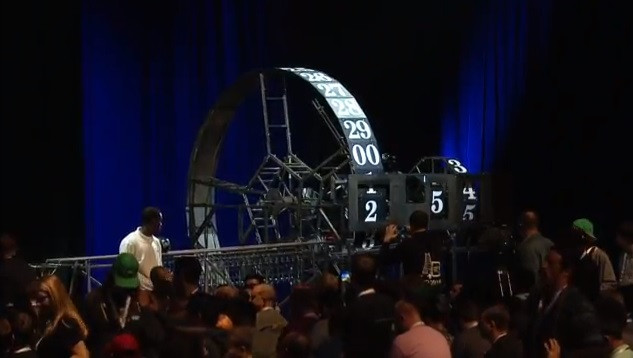 4.59pm: Are you ready? The hundreds of people still stuck in the queue certainly aren't...
4.53pm: People are taking their seats now, to a soundtrack of "light ambient trance" according to Tim Stevens.
4.49pm: And the protestors have arrived! Activists were arrested at Google's Mountain View headquarters yesterday, now some have appeared outside the Moscone Center emploring the tech giant to not be evil.
4.42pm: Just under 20 minutes to go now folks, and Google is adding to the suspense with its very own countdown clock contraption: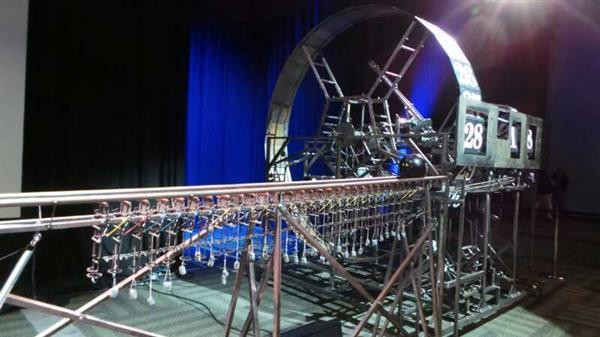 4.39pm: Google has apparently filled the halls of the Moscone Center with great big Android giants. This one spotted by tech blogger Adriana Lee appears to be wearing a Steve Jobs turtleneck...
4.34pm: What are you hoping to see at Google I/O 2014? Tweet @IBTimesUKTech and let us know.
4.28pm: Stefan Constantine might not actually be exaggerating:
4.25pm: It looks like we might be in for a delayed start. Apparently there's still over 1.3 million people to squeeze inside the 1,340-seater Moscone Center:
4.17pm: Google Glass was finally unleashed on the British public this week, so anyone with £1,000 burning a hole in their pocket can now join the Glass Explorer programme. Those already with the smartglasses will be hoping for some interesting updates to be announced, however it's going to take something major to make the specs a hit on these shores - at least according to IBTimes UK.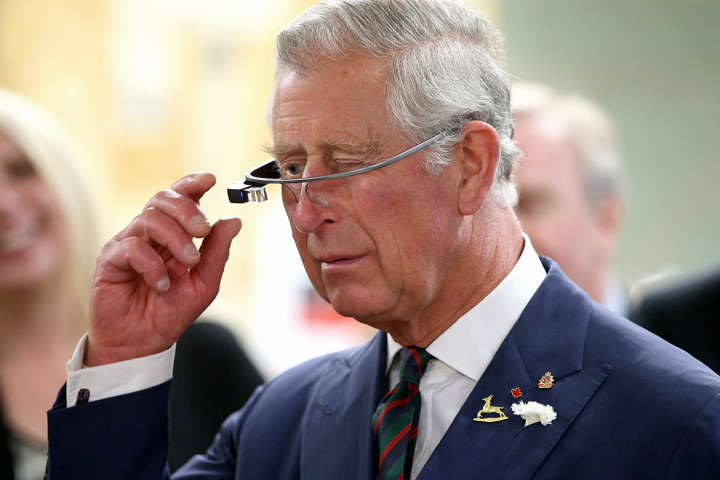 4.07pm: If you're wondering where you can watch the event online, then wonder no longer. We've got all the info on how to watch the Google I/O livestream right here.
4.02pm: There's less than an hour to go now until the keynote kicks off and the queues outside the Moscone Center are beginning to build:
3.56pm: The next version of Google's mobile operating system, widely-expected to be called Android 5.0 Lollipop, should be announced today. While details remain hazy as to what features will be included, we've taken a look at five features that we'd love to see on the latest incarnation of the world's most popular operating system.
We've included 64-bit support, improved Google Now functionality, kill switch integration, a fitness platform and voice security. Oh, and 3D interface capability, because why not?
3.45pm: Speaking of which, tech journalist JR Raphael has just spotted some fitness-related vendors on the show floor in San Francisco:
3.40pm: One big announcement expected at the keynote today is Google Fit, the company's new health service that will aim to rival Apple's recently announced HealthKit platform.
If rumours are to be believed, Google Fit will collect and aggregate data from health apps and fitness trackers like the Jawbone Up24
Henrik Torstensson, CEO of digital health app LifeSum, has spoken this week of the growing demand for such services.
"Mobile health is becoming increasingly relevant for consumers all across the world. The global mobile healthcare market was estimated to be worth $6.3 billion in 2013, and is expected to reach $20.6 billion by 2018," Torstensson said. "It isn't surprising that companies such as Google and Apple are responding to this."
3.27pm: If that's not enough for you, then here is a Wall Street Journal piece on the rise of Google Play store:
There are now more apps available in the Play store, 1.5 million, than the App Store, 1.2 million, according to market researcher App Annie. App downloads from the Play store surpassed those from the App Store for the first time in 2013. The App Store still generated more than twice as much revenue for developers last year, but that was down from six times as much in 2012. Google Chief Business Officer Nikesh Arora told investors in April that Play store payments to developers quadrupled in 2013 from 2012.
3.20pm: Looking for some interesting reading before the Google I/O keynote kicks off? Then check out this in-depth profile of Sundar Pichai on Businessweek published the day before the conference, which details how Pichai took over Android from Andy Rubin and has begun integrating it with all of Google's other services.
Ten years ago, the Indian-born Pichai, 42, was a product manager at Google, and his domain consisted of the search bar in the upper right corner of Web browsers. He then persuaded his bosses to wade into the browser wars with Chrome, which in time became the most popular browser on the Internet and led to the Chrome operating system that runs on a line of cheap laptops called Chromebooks. Pichai took over Gmail and Google Docs in 2011. In 2013, CEO Larry Page put him in charge of Android, making him one of the most powerful technology executives in the world. Page says Pichai "has deep technical expertise, a great product eye, and tremendous entrepreneurial flair. This is a rare combination, which is what makes him a great leader.
3pm: Hello everyone, and welcome to IBTimes UK's live coverage of the first day of Google I/O 2014, the California-based company's annual developer conference.
Developers, journalists and bloggers are already gathering outside the Moscone Center in San Francisco, ready for the keynote address that will be kicking off at 9am local time (5pm UK time).
We'll be with you throughout the build up and event, bringing you all the rumours, comment and analysis at what some expect to be the biggest Google I/O yet.
For an in-depth run-down of all we might be able to expect, check out our Google I/O 2014 preview piece here.