We put Google's Nexus 4, manufactured by LG, Nexus 4 side-by-side with Samsung's flagship, Galaxy S3, making it easier for your to decide which one to buy.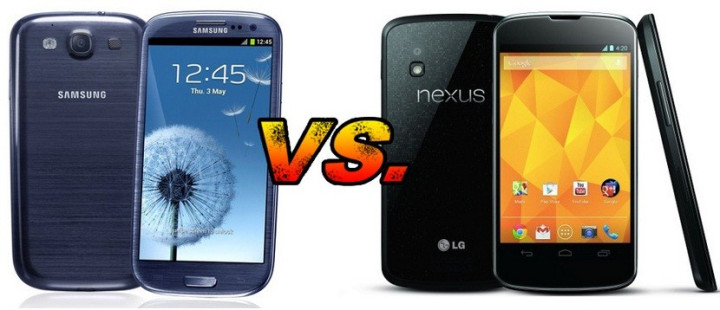 Google claims the Nexus 4 features a "sophisticated hardware design" by LG and the handset will be available to purchase on Google Play Store starting from 13 November in several countries including the UK. The handset will run the latest version of Google's operating system, Android 4.2 (Jelly Bean).
"LG is proud and excited to play this role in helping build the latest Nexus smart-phone. Users will be delighted by the perfectly balanced combination of form and function with the latest generation of Android," said Dr. Jong-seok Park, President and CEO of LG Electronics Mobile Communications Company.
"This is the first time we collaborated with LG to build a Nexus device. They brought an extraordinary amount of talent to the project, and the result is a feature-packed device that feels great in your hand, and blazingly fast under the hood," said Andy Ru-bin, Senior Vice President of Mobile and Digital Content at Google.
Here, we take a look at how the Google Nexus 4 compares to the current Android leader, the Samsung Galaxy S3:
Nexus 4 Vs Galaxy S3: Display
The Nexus 4 features a 4.7in WXGA True HD IPS Plus display with a screen resolution of 768 x 1280 pixels giving it a pixel density of 320 pixels per inch (ppi). The display, as Google notes, is supported by 'Zerogap Touch' technology, which aims to help viewing angles and lessen reflection.
Google claims the cutting edge display technology will also make users "feel like touching every pixels on the screen."
Samsung's Galaxy S3 features a 4.8in HD Super AMOLED display. The Galaxy S3's display, like the Nexus 4, is protected by Gorilla Glass 2. The screen resolution as well as the pixel density of Galaxy S3 is slightly less than the Nexus 4 at 720 x 1280 and 306ppi.
Nexus 4 Vs Galaxy S3: Dimensions
The Nexus 4 measures 134 x 69mm, and is 9.1mm thick, whereas the Galaxy S3 measures 137 x 71mm and is just 8.6mm thick. In terms of weight the Galaxy S3 weighs six grams less than the Nexus 4 at 133g. There is not much to chose betqween the phones in terms of footprint, thickness or weight, which isn't surprising considering the similar sized screens.
Nexus 4 Vs Galaxy S3: Operating System
The Nexus 4 will run on Android 4.2 (Jelly Bean), Google's latest mobile software which was announced alongside the announcement of the other Nexus devices. The update brings a number of new features, including an additional feature within the camera app called Photo Sphere.
This allows users to capture images that are larger in size and users can share their photos on Google+. In addition users can add their Photo Sphere to Google Maps.
The Android 4.2 features Gesture Typing which sees users typing by swiping betwene the letters of a word - similar to the Swype keyboard. It also adds support for wireless display which will enable users to share movies, YouTube videos and other video and images on their TVs.
Other key features of latest version of Jelly Bean include Daydream, enhanced Google Now, Google Search and Android Beam.
The Galaxy S3 was first launched with Android 4.0.4 (Ice Cream Sandwich). The manufacturer has begun the Android 4.1 (Jelly Bean) roll-out for the device starting with Poland and promised that the update will be released to other parts gradually.
Recently the update has been released for the UK Galaxy S3 users with the network operators confirming the update for their consumers. There is no word on an update to Android 4.2 yet.
Nexus 4 Vs Galaxy S3: Processor
The Nexus 4 is powered by Qualcomm's Snapdragon S4 chip featuring a quad-core Krait processor, paired with an Adreno 320 graphics unit. This quad-core processor runs with a clock speed at 1.5GHz.
This new quad-core chip is similar to that of the Snapdragon S4 dual-core chip that powers the US variants of Galaxy S3 as well as HTC One X. Soon after the chip was announced, AnandTech conducted a series of benchmark test which reveals that the S4 Pro quad is indeed a powerful processor.
The Exynos 4 quad which is Samsung's first quad-core application processor is the power house for the Galaxy S3. The processor is built using High-K Metal Gate (HKMG) low process technology and is based on the ARM Cortex-A9 core.
It runs with a clock speed at 1.4GHz. The Galaxy S3 is the first Samsung's device to adopt the Exynos 4 quad-core processor. Samsung boasts the processor possesses twice the processing power over the 45nm process-based Exynos 4 dual-core while consuming 20 percent less power.
The Nexus 4 comes with 2GB of RAM compared to 1GB of RAM in the Galaxy S3.
Nexus 4 Vs Galaxy S3: Camera
The Nexus 4 features a high resolution rear-camera of eight megapixel with technologies including auto-focus, LED flash, touch focus, geo-tagging, face detection and Photo Sphere. The camera is capable of capturing video in 1080p at 30 frames per second. The device comes with a 1.3megapixel HD front-camera.
The Galaxy S3 has a similar resolution rear-camera with features including auto-focus, LED flash, simultaneous HD video and image recording, face and smile detection, touch-focus, geo-tagging and image stabilisation. In addition the camera can capture video in 1080p at 30fps.
The Galaxy S3's front-camera has slightly more resolution than the Nexus 4's at 1.9 megapixel. The camera is capable of HD video recording at 30fps.
The front-facing camera of the Galaxy S3 has a feature called Smart Stay that recognises the user when he or she is looking at the screen and locks when the user is looking away.
Nexus 4 Vs Galaxy S3: Connectivity
The Nexus 4 features Wi-Fi N, DLNA, Wi-Fi hotspot and Bluetooth v4.0 with A2DP. Google has now confirmed that the T-Mobile users will be able to enjoy Nexus 4 with HSPA+ 42.
The Galaxy S3 offers Wi-Fi N, DLNA, Wi-Fi Direct, Wi-Fi hotspot and Bluetooth v4.0 with A2DP and EDR. The device supports theoritical HSDPA data speeds up to 21Mbps and HSUPA up to 5.76Mbps. Both Nexus 4 and Galaxy S3 are NFC-enabled.
The major difference in terms of connectivity is that some versions of the Galaxy S3 supports 4G LTE networks speeds whereas the Nexus 4 does not.
Nexus 4 Vs Galaxy S3: Storage
The Nexus 4 will be available in two storage options: 8GB and 16GB.
The Galaxy S3 is currently available in two storage variants 16GB and 32GB. During the announcement of Galaxy S3, Samsung promised that the 64GB version of device will be available in later this year. There is no official word on the 64GB model however a few retailers have announced their pricing details for the device which is yet to hit the shelves.
Samsung's flagship device supports microSD card for additional storage space, a storage features which the Nexus 4 lacks in.
Nexus 4 Vs Galaxy S3: Battery
Interestingly both the Galaxy S3 and the Nexus 4 run with similar powered battery at 2100mAh. Google promises the battery inside Nexus 4 will provide 15.3 hours of talk time and standby for about 390 hours. The Galaxy S3's battery reportedly delivers talk time of 21 hour and 40 minutes on 2G and 11 hour and 40 minutes on 3G with claimed standby time of 590 hours on 2G and 790 hours on 3G.